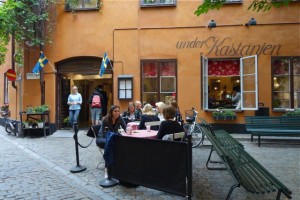 The Under Kastanjen (under the chestnut) cafe is located on one of my favorite small squares in Gamla Stan. And yes, it is under a chestnut tree.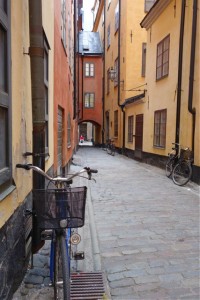 Bicycle parking.
When I dreamed of moving to Europe, I always pictured living in a place with cobblestone  streets, old buildings, narrow alleyways–you know, that sort of typical "European" look. I wanted to walk to the bakery and cheese shop, ride my bicycle, live the more laid-back life.
As part of a work event last week, I was taken on a special guided tour of Gamla Stan, Stockholm's old town. This part of the city is THE picture of old town Europe that I've had in my mind's eye forever. I have spent a lot of time wondering around these streets over the years, so it was fun to hear some details about the area from an expert. Gamla Stan is where Stockholm was founded in 1252 and with the buildings from the 17th century  and earlier and the small, narrow streets that don't fit cars, it's easy to feel like you have stepped back in time.
We met up with our tour guide next to the Royal Palace and then walked into Bollhustäppan, a courtyard behind the Finnish church. There, we learned about Pojke som tittar på månen or "boy looking at the moon," a tiny statue there. Also called iron boy, the statue often has hats and scarves knitted for it in the winter. And apparently, it's considered good luck to rub the boy's head, as you can see by his shiny head.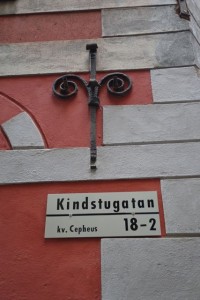 Building support: beauty and function.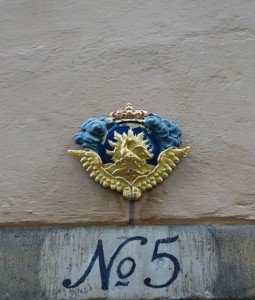 Fire protection.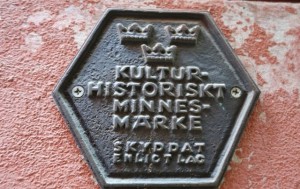 Culutral historic marker.
From there, we checked out the specific details that make up old buildings, the building supports between the floors, the fake windows that were painted on to give a tax break and more. We learned about an early form of life insurance where a plaque over your doorway meant that you had paid extra to be saved in case of a fire, and much more.
It was such a wonderful way to spend an evening and such a good reminder of why I wanted to move here. By the way, I do walk, ride my bike or take the train everywhere.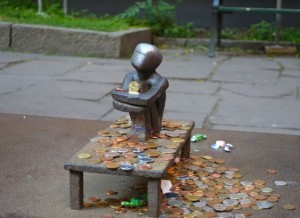 This tiny "iron boy" statue is behind the Finnish church and is purported to give you good luck.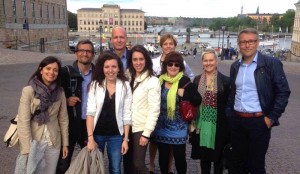 My fellow tour takers/coworkers. (I am the only one in sunglasses for some reason!) Photo by Rafael Braz.