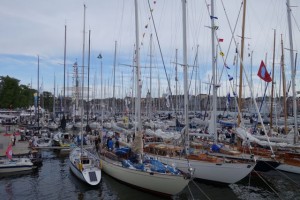 Just a handful of the sailboats in town for the race.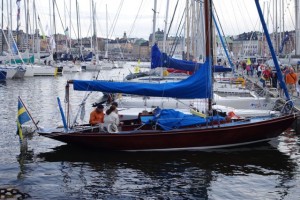 A classic wooden boat.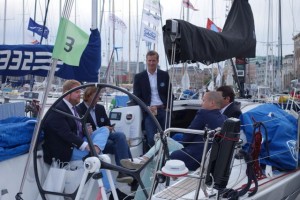 Dressed to sail?
Stockholm is a city made for being in and on the water. Located on the Baltic Sea and Lake Mälaren, the center is made up of 14 islands. And just outside of town on the archipelago, there are some 40,000 islands.
With all this water, it's a perfect city for staging a boat race. Every year at this time, I love seeing all the sailboats come into the city to take part in the The Round Gotland Race. Last night, I walked to Skeppsholmen, the island where the Royal Swedish Yacht Club, founded in Stockholm in 1830, assembles all the boats, booths, bands and beer for the race.
This offshore sailing race starts and finishes on the island of Sandhamn in the Stockholm archipelago and the boats sail to the island of Gotland. There were somewhere around 300 boats docked around Skeppsholmen yesterday. And while I did not see any royalty last night, I read that  the Kings of Sweden and Norway often participate.
There are a wide range of sailboats, from old wooden classics to the most modern and high tech options. The boats all have signs listing their category and skipper (there were some women). If you're in town, it's worth going to check out the scene.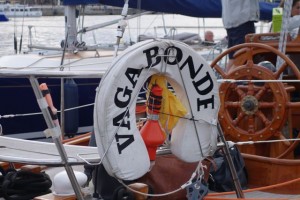 The vagabonde.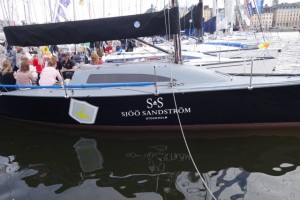 Boat reflections.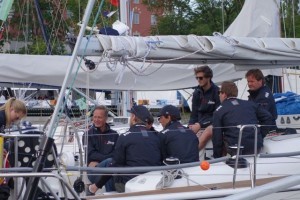 Race planning.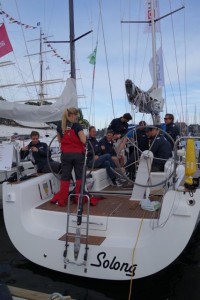 The So Long race crew.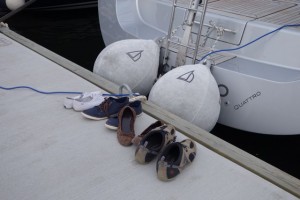 Leave your shoes at the door.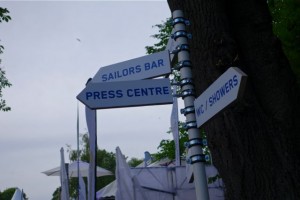 The way to the Sailors Bar and other options.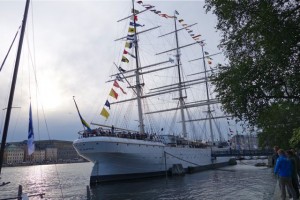 The AF Chapman, a hostel docked on Skeppsholmen.