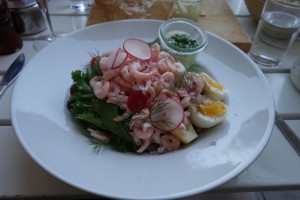 A classic Swedish shrimp salad.
Swedish meatballs and salmon are not the only meal staples in Sweden. The shrimp salad is also a meal classic that I've grown fond of in my time in Stockholm.  Called Skagenröra, the  basic recipe combines tiny shrimp with a mayonnaise, dill and lemon dressing. Skagenröra can be served up as a salad with hard-boiled egg and salad greens as you see in the photo above.  Another option is to have it on toast as an open-faced sandwich. And I've also had it on top of a baked potato. It's all good. But, funnily enough, it's one of those meals I often order when I am out, but I've never made for myself. And I definitely never even heard of it before I moved to Sweden.
For my friend Zanne's birthday a while back, we went to Hotel Skeppsholmen's restauarant Långa Raden. It was a lovely spring evening and we ate outside. (This was before all this ridiculous gray and cold sweather set in.) I had the salad version and Zanne had the sandwich version. To start, we had some lightly salted crisps with parmesan on top and a horseradish dip. Together with some white wine,  it was a simple and tasty evening.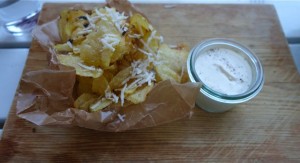 Chips with parmesan and a horseradish dip.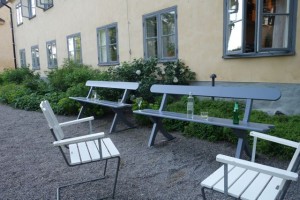 Nothing left but the empties.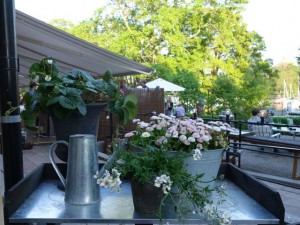 On the restaurant terrace.