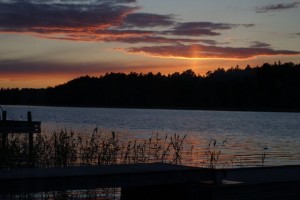 The sky around midnight on
midsummar afton
: moving into the longest day of the year.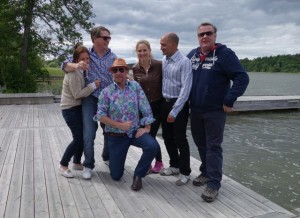 Posing by the water.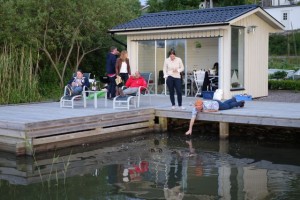 Hanging out after dinner.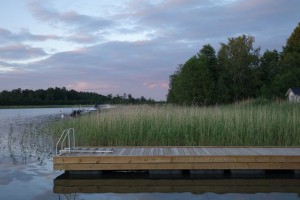 The long slow sunset of Swedish summer.
The kick-off weekend to summer here in Stockholm has been much more like March than June in my mind. Rain showers, gray skies and temperatures around  13-14 degrees C or 55-57 F. But in spite of the weather, we carried on with our usual midsommar celebrations on Friday. Even though the day was not nearly so warm and sunny as last year, it was still wonderful.
As per tradition, we were again at Nici and Roger's house on the water just outside of town. Following the pattern we've set over the years, we started with a champagne toast and then a traditional Swedish lunch of sill or herring, Västerbotten cheese, hard bread, and new potatoes with dill and cream. This was accompanied by German beer, as well as Swedish and Norwegian snaps (vodka). And of course there were drinking songs.
Unlike previous years, we spent most of our time inside Nici and Roger's little dining house by the water. But with good friends and conversation, the weather did not matter so much. And we did some dancing on the jetty to keep warm. Later on for dinner, we had a big BBQ with German sausages, American-style pasta salad, Australian rissoles and pavlova for dessert.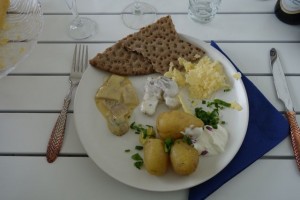 Midsommar lunch.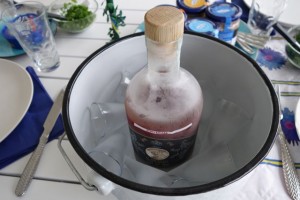 Nici and Roger's homemade snaps.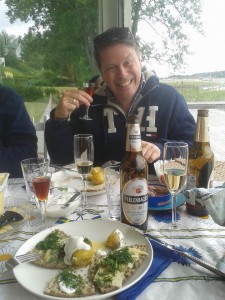 Roger showing off his variety of beverage options. (This photo and next by Aron Krishna.)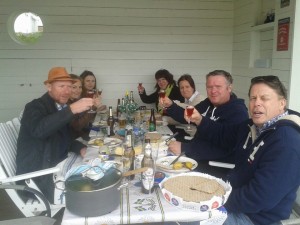 Skål!
As we took the bus back into town at 3am, the sun was fully up. Even though the weather did not feel like summer, the light was cooperating at least.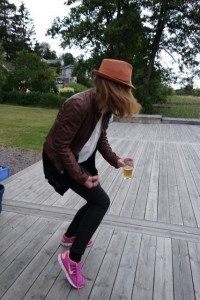 Tone shows off her Axel Rose moves.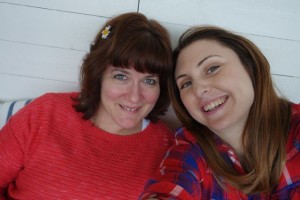 Taking a selfie with Caroline.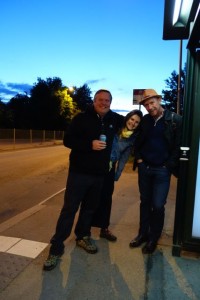 Waiting for the bus back into town just after 2am–check out how light the sky is.