"For all of us who have lived in Paris, we will never forget it because Paris is a moveable feast." Ernest Hemingway in A Moveable Feast.
I just spent four lovely days in Paris. It was just the getaway I needed to feel inspired and recharge my batteries for surviving the Stockholm dark season. Visiting there so soon after the attacks, I was not sure how things would be and if I would feel safe. But I did and Paris was just as charming as it's always been for me.
A big highlight of any trip to Paris for me is always the food and wine. So this time, I did things up well and took a foodie tour with Paris by Mouth. It was fabulous. There were only seven of us in the group, so tour guide Emma was able to give a very personal tour of the Latin Quarter's food.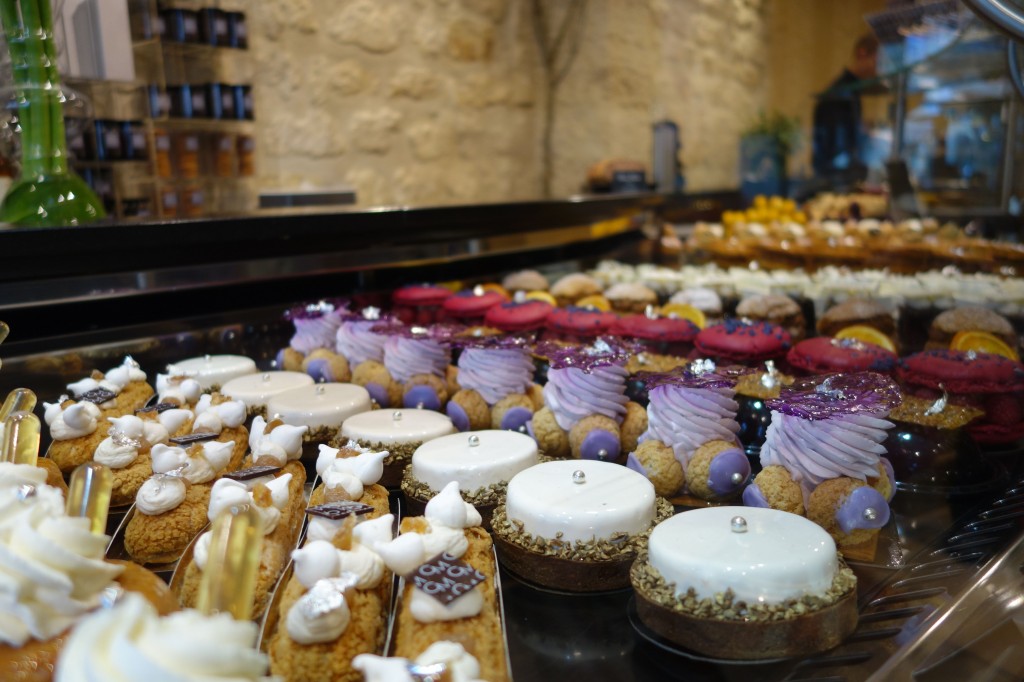 The artfully done and amazing pastries at Carl Marletti are made fresh daily. All photos copyright Sandra Carpenter 2015.
Let me start by saying I've never done a food tour before. It's not typically my kind of thing. But this tour made me a big fan. I learned so much, had fun and was happy from our very first stop at Carl Marletti on to the very end. I won't give away all the tour secret spots we went to, but I will say that Carl Marletti had some of the most elegantly crafted and gorgeous pastries I've ever seen. And they weren't just pretty either. They also tasted amazingly good. As for what we had, it was the chocolate eclair and the tart au citron (lemon tart).
From there, we tried fresh macarons–salted butter caramel and a violet one for me. I can't begin to say how much better a fresh macaron is–the jammy center, the airy meringue. If you haven't had a fresh, just-made-that-day macaron, then you have not had one!
To recover from all the sweets, we moved on to the savory. Basically, Emma would bring us into a shop, introduce us to the owner and explain the specialties, different food designations and regions. At each stop, she would offer us choices and then select and make a purchase for all of us and put them into her basket so that at our final stop, Maison Claudel Vin & Whiskey, we were able to sit down, drink and sample all of our goodies.
So what did we have in our picnic? Here are a few of the highlights for me: Pave au poivre (cured ham with black pepper), rillettes a l'oie (goose), croute aux moiled (pork pate in pastry), a to-die-for Comte' –an 18 month old, cooked, pressed cow cheese from the Alps, and Tomme de Saint Sulpice pressed sheep cheese from the Correze region. For dessert, I loved the dark chocolate ganache and Kirsch dark chocolate cherry we had. And it was all topped off with a Cheverny 2014 Sauvigon Blanc from the Loire Valley and a 2013 Syrah from the Languedoc Roussillon.
It was a wonderful way to spend a few hours. And it was indeed, a moveable feast.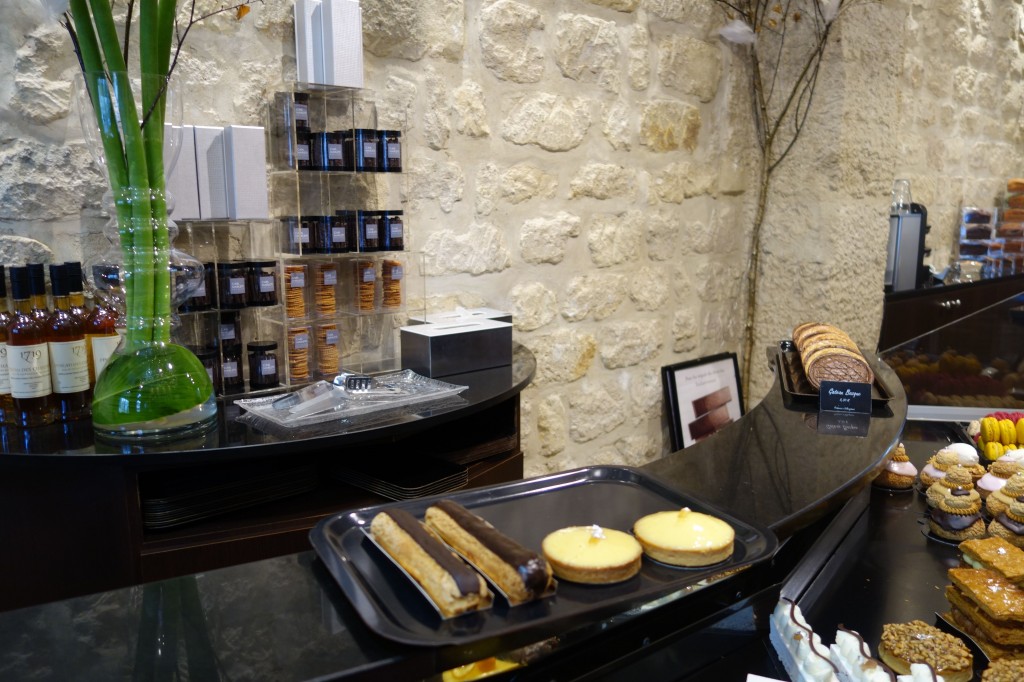 The chocolate eclairs and lemon tarts that we sampled from Carl Marletti.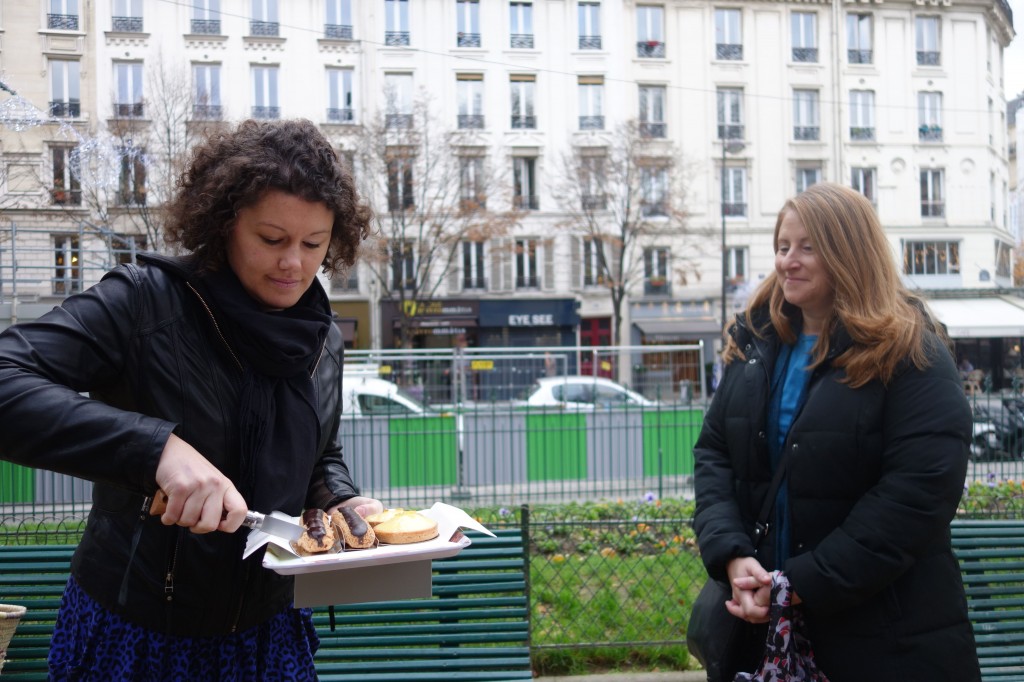 Tour guide Emma serves up a few pastries in the park.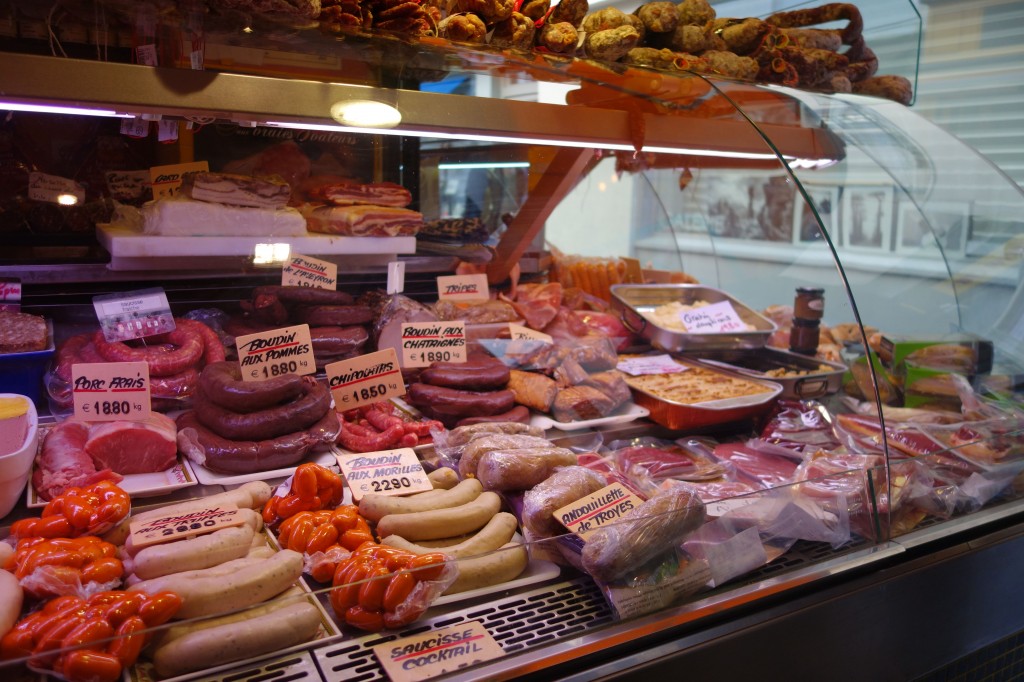 Flavors of Auvergne.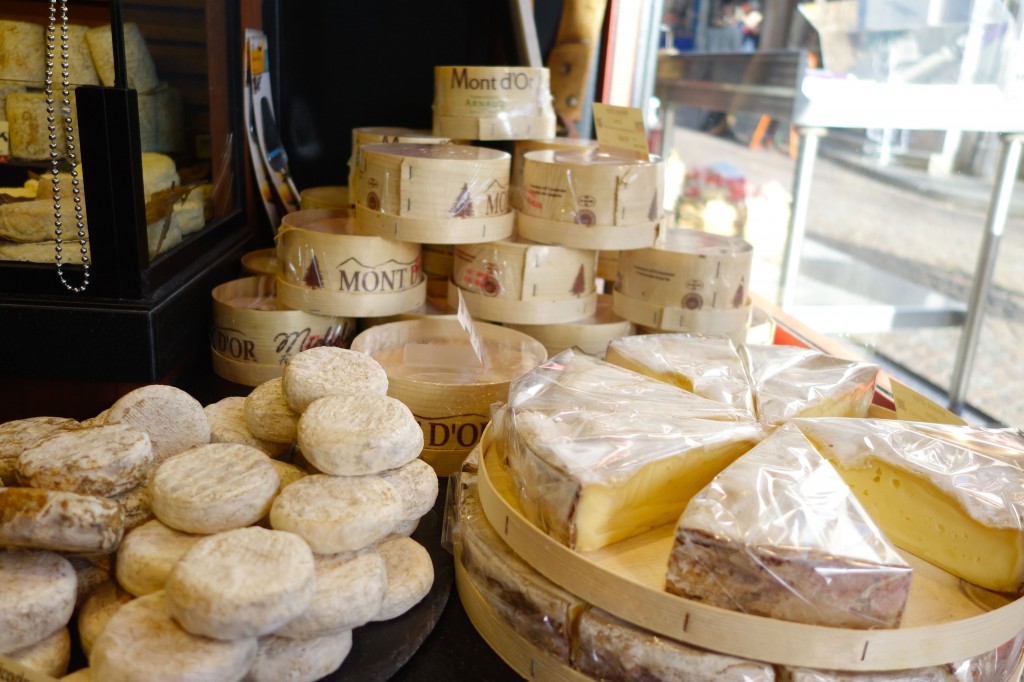 A selection of Paris cheeses.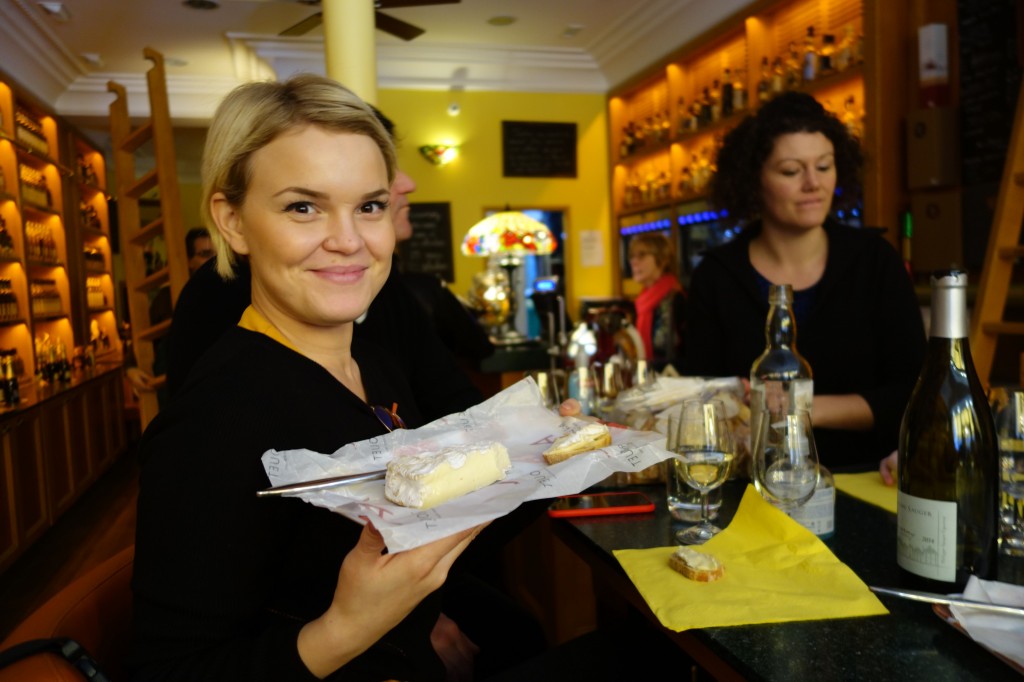 Trying the cheese at our picnic lunch.