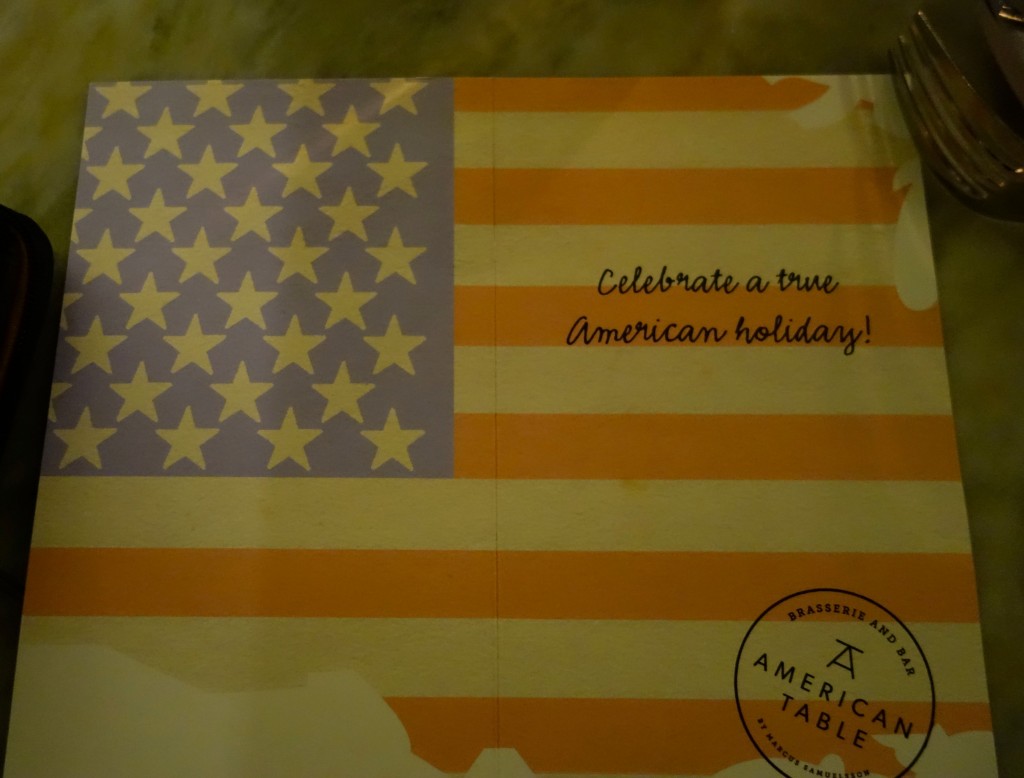 The Thanksgiving menu at American Table Brasserie. Click on the image to see the full photo.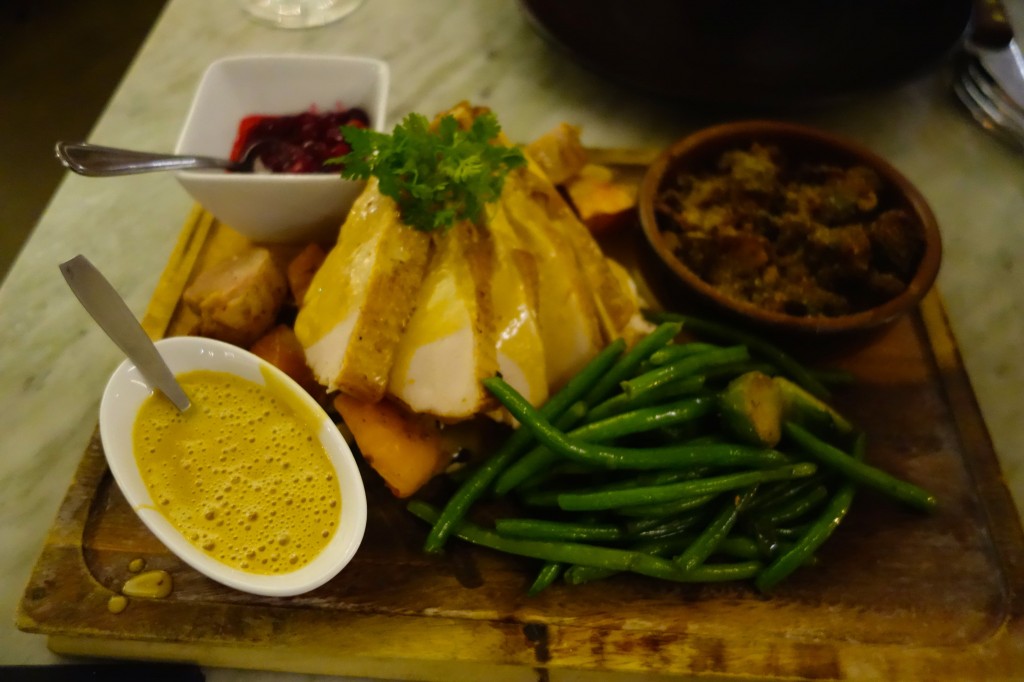 The main course at American Table.  All photos copyright Sandra Carpenter 2015.
Thanksgiving is such an American holiday that it often makes me feel like I am far from my homeland and family. This year, I was in a November light-deprived funk and felt like I did not want to mess with all the work. But knowing me as he does and that I would be really down if I didn't do something, Robert talked me into just making a small-scale dinner on Friday evening. So I agreed.
Not surprisingly,  it ended up not really being a small scale meal. (I don't think that's possible with thanksgiving). But after I lugged home a six kilo fresh turkey from a local market hall on the subway, it was destined to be bigger. At least it was all a lot of fun.
On the actual day, I worked (it's not a holiday here in Sweden) and then met my friend Zanne for dinner at Marcus Samuelsson's American Table Brasserie. The restaurant was running a special menu that promised we could "celebrate a true American Thanksgiving," so we thought we would check it out. We had a blast. The music was fun, the waiters were friendly and the service was attentive. We got to chat with Marcus for a bit, too. And the meal? It was the best Thanksgiving dinner that I've ever had at a restaurant in Stockholm.
We had thyme- roasted butternut squash soup, carmelized pear and frisee salad, roasted turkey with cranberry relish, green beans, brussel sprouts, sweet potatoes and gravy. We started with a glass of champagne, ran into friends who were also eating there and in general, just had a great time. Later I talked to my family in the US just before they were ready to eat.
Then on Friday, we had a few close friends over for dinner and did the whole big meal all over again. As I prepared all the touches during the day and pulled out my good china, the glasses from my grandmother Clara, and different serving dishes and silver pieces from my mom, I was launched back into the traditions and meals I've celebrated my whole life. I felt intrinsically connected to my family in the US.
As for the dinner here, it was wonderful. Zanne brought brussel sprouts roused with pancetta, cranberry sauce and a pecan and a pumpkin pie while Suzanne brought sweet potatoes and chocolate. Nici and Roger brought really tasty wines and we started with a Crémant that Zanne had found that was excellent. Robert and I collaborated on the turkey and I made a pretty good stuffing with Italian sausage and cranberries. Together with green beans, cornbread muffins, potatoes and gravy, it was all fantastic.
Stuffed as we were on all that food, we somehow segued into dancing and playing music for hours. That helped a lot with the food overload. But more than anything, it was just such a celebration of friendship and good food. And for that, I am grateful.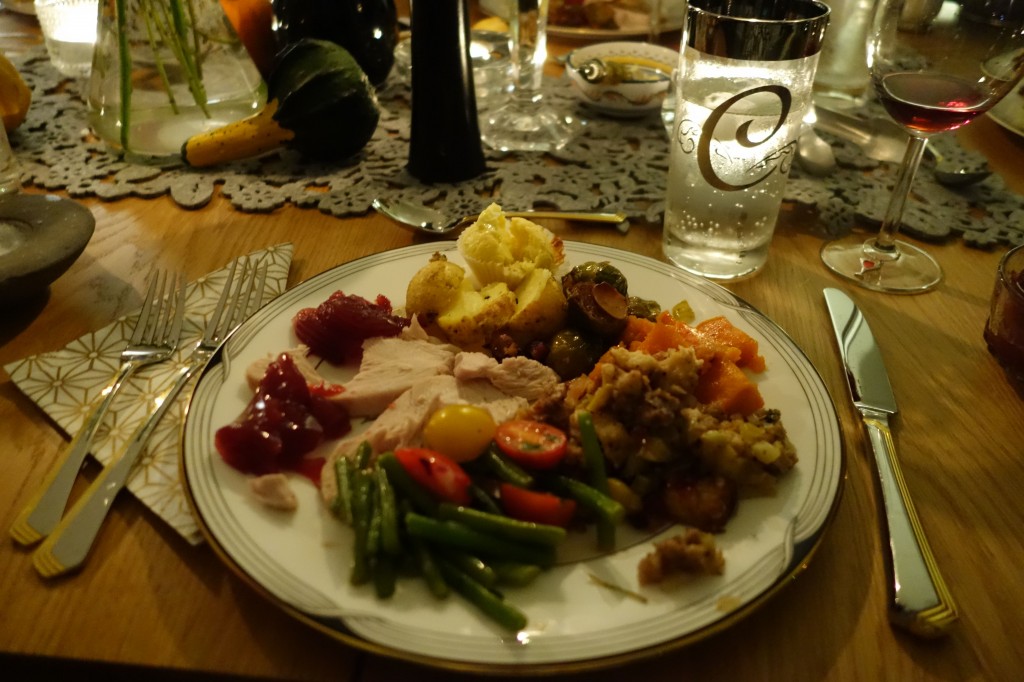 My dinner at home.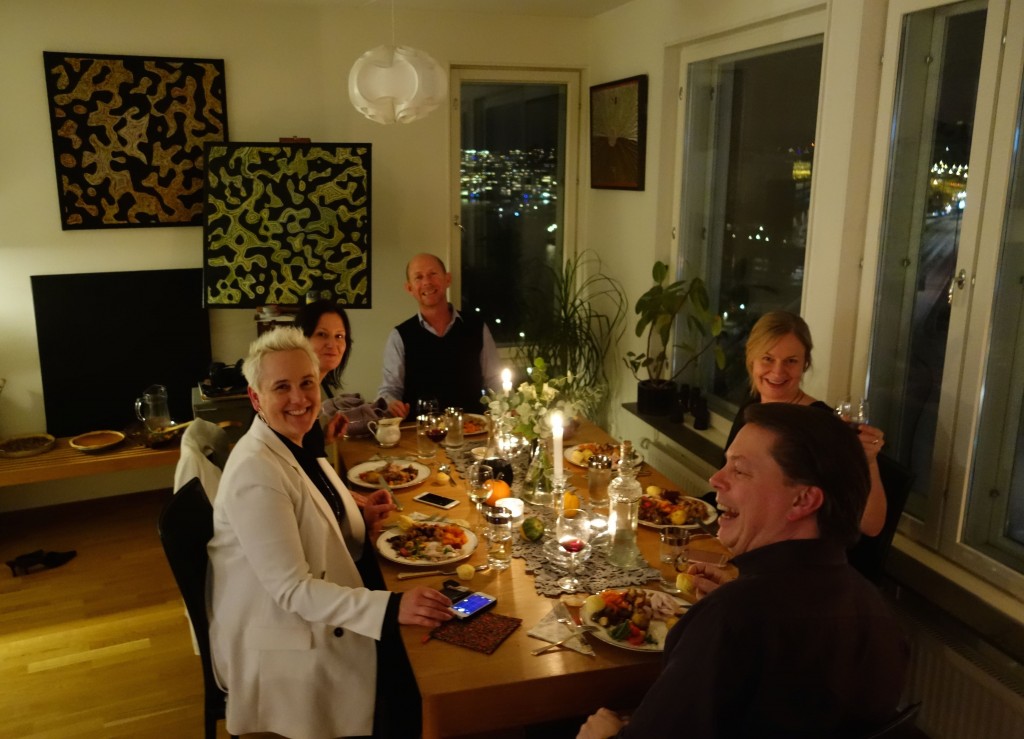 Thanksgiving with friends.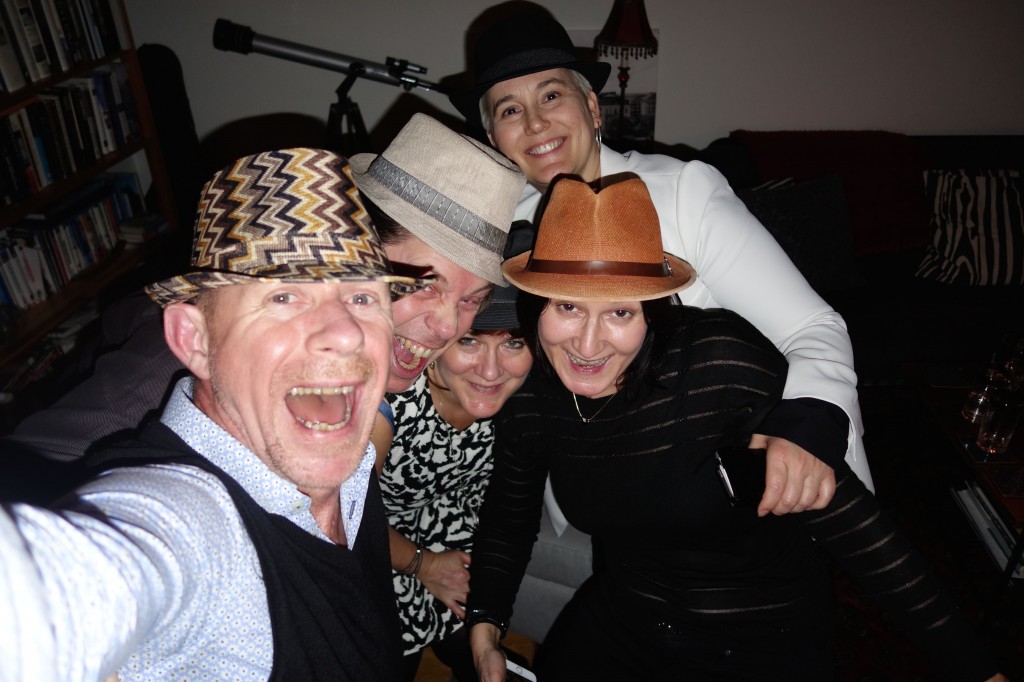 For some reason, late night dancing required hats.