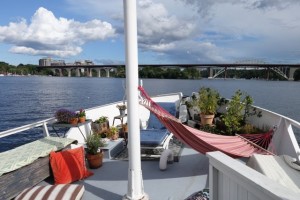 The bow of the boat was a perfect spot for relaxing in the sunshine.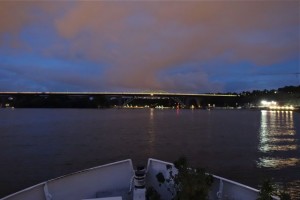 And also watching the clouds at sunset.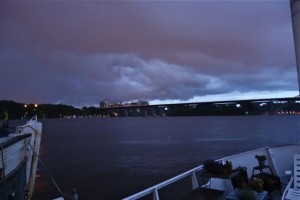 Or even the storm clouds.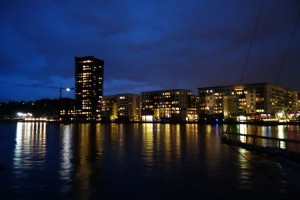 Calm waters after the storm.
I've always thought I would like to live on the water. So when Robert surprised me last weekend with a stay on a boat, I was pretty happy. Actually what I said to the owners as they gave us the keys was: "The only problem for you is that I am not going to give you these back."
And you know what? It was hard to give them back. I loved being directly on the water and seeing sail, motor and tourist boats, as well as kayaks, jet skis and fishermen go by. When a thunderstorm came up on Friday night, it was fantastic to watch it from just under the roof on the bow of the boat, seeing the water get choppy and the sky change colors. And it was relaxing to be gently rocked to sleep at night and to wake up to the sound of the sea gulls.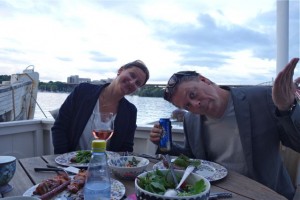 Nici and Roger joined us for a BBQ with a view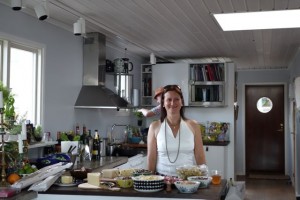 Nici and Robert, busy in the kitchen.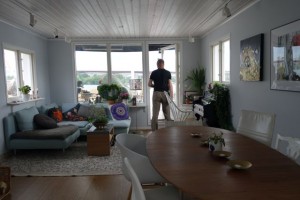 The living room.
It was also nice to share the boat with friends and we had a small BBQ on Friday evening. And then on Saturday night, Robert hosted a birthday dinner for me. None of our friends wanted to leave either. (You can see a a few more photos of the boat here.)
I could imagine myself living and writing on a boat and just being creative in general. It was inspiring to be so close to water. And since we were in a harbor that was right next to all sorts of restaurants and stores, we also had everything we needed within a short walk. It was perfect.
While we only stayed on board for three nights, it was good. Really, really good, actually. Because the boat was a home with a big kitchen, bathroom with tub and living area on the top floor, it was comfortable. And then below, there were three bedrooms and another couch/living room area.
I could get used to that life. Anyone know of a houseboat for sale?
On coming back home I check on the internet and learned more from the Intrepid Powerboats website. Now I am 100% positive that I really want a powerboat.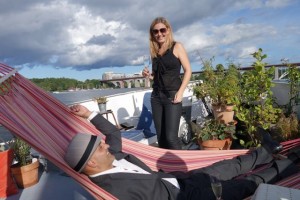 Of course, life on board is pretty tough, as Aron and Tone demonstrate.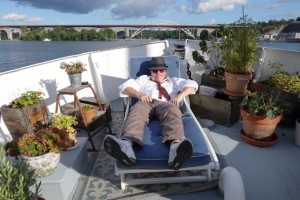 And Roger had a tough time with the conditions, too.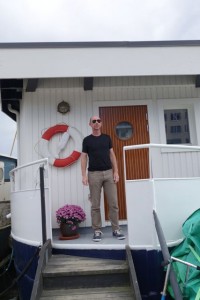 "My captain" Robert gives the welcome aboard.