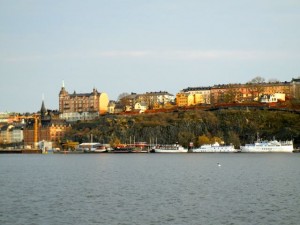 Looking toward Södermalm.
It's been way too long since I updated things here on my web site. We've been busy. It sounds lame, I know, even as I write it. But work has been busy, life has been busy. And after years of renting, Robert and I finally bought an apartment in central Stockholm. I've been kind of reluctant to talk about it all for a lot of reasons. For one, I'm kind of nervous that something will happen and things won't work out. But that's goofy, right?
It was a big  deal to us for a variety of reasons as it meant truly committing to living in this city and also because nothing comes cheap in this town. But we bit the bullet.
In October, we will be moving back to Södermalm, the lively, intriguing and cool island that we've spent most of our time in Stockholm living on. And you don't have to just take my word on its cool factor:  Vogue magazine just chose it as no. 3 on its list of the world's coolest neighborhoods. Here's a bit of what they had to say: "In this day and age, "Cool" and "Stockholm" are essentially synonymous. Think: Acne Studios, long-lit summer nights, minimalistic armchairs. Imagine, then, how hip its coolest neighborhood must be."
Imagine that.
Stay tuned.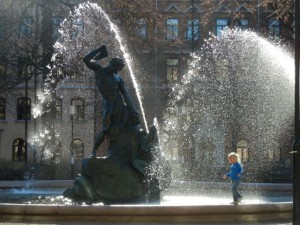 The fountain at Mariatorget on Södermalm.