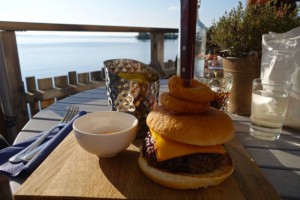 A hamburger with a view.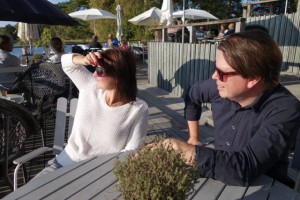 Nici and Roger admiring the view.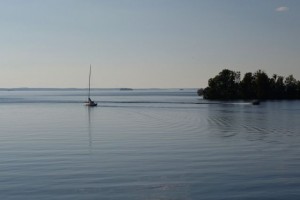 And the view.
Last weekend, I spent some time with my friends Nici and Roger. They live on a island called Ekerö which is located outside of Stockholm. When I go to their place, it always feels like a bit of a getaway adventure as it takes a while to get there and also because they live right on the water. It's also one of my favorite places to go outside of the city. (You may remember that we always go to their home for midsummer parties.)
After being thoroughly lazy and hanging out on their jetty for hours, we smelled a neighbor's charcoal grill. Simultaneously, we said: a hamburger would be about perfect right now. And that hamburger inclination was what finally got us to move off of the lounge chairs. We went to Rastaholms Värdshus, a lovely inn also situated right on Lake Mälaren in Ekerö.
The weather was sunny and warm and we were so happy to just enjoy the perfect view out over the water. But we were pleasantly surprised to discover that the burger was good– really good actually. And there were fun little touches like the ketchup and mustard in paper bags with handles and after we ordered, we were given a bag of popcorn.
And then the hamburgers. Well, mine was one of the best I've had in Sweden. The "hamburger plate" included the hamburger with onion rings on top, barbecue sauce and a bacon mayonnaise,  cheese, chili aioli, and potato chips that were so good that we decided they must be homemade.
Sometimes it is the simple things that can make you happy.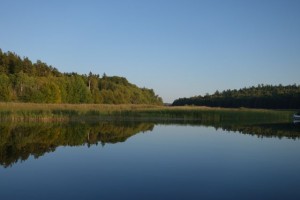 The view from the marina.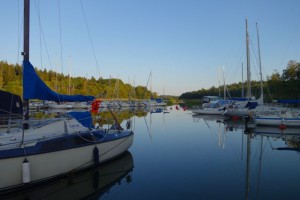 Rastaholms marina.