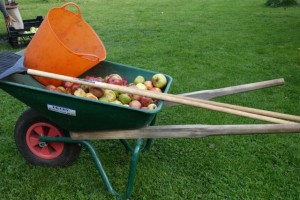 A wheelbarrow full of apples at Rosendals.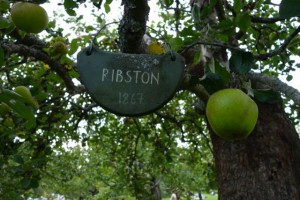 This ribston apple tree dates back to 1867.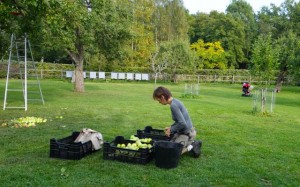 Sorting apples.
On Saturday, we walked to Rosendals Trädgård, a garden on the island of Djurgården. The garden dates back to 1817 and has fields of flowers and vegetables, greenhouses, an orchard, beehives, a vineyard, a bakery, a shop and a cafe. Specializing in biodynamic cultivation, Rodendals is a charming spot to go and wander the gardens or sit inside or out and have lunch or a pastry, a glass of wine or a cup of coffee.
The apple trees were laden with fruit and after we wandered around the orchard to check out the 40 varieties of trees–many dating back more than 100 years–we could not resist stopping into the store to buy some apples. And so then Sunday, I made an apple pie. While my mother is an extraordinary pie maker, I've never been so skilled in that department. But my friend Bryn's recipe for a bourbon peach crumb-top pie was super easy to do and perfect for making with apples too. Oh my, that pie smelled amazing. And oh yes, it was good.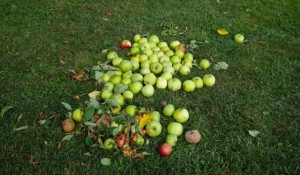 Apple leftovers.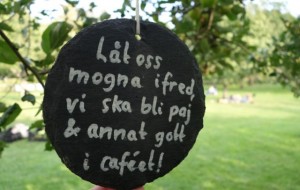 Let us mature in peace, we will become pie and other treats in the cafe.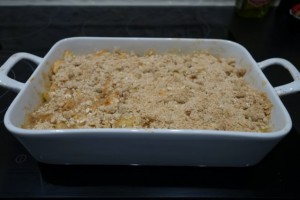 The complete apple pie, fresh from the oven! (In our temporary apartment, I don't have a pie pan.)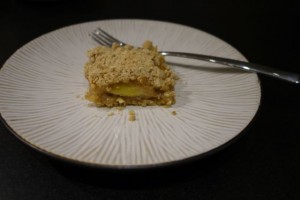 Robert and I decided we had to sample the apples while they were still warm–yum!