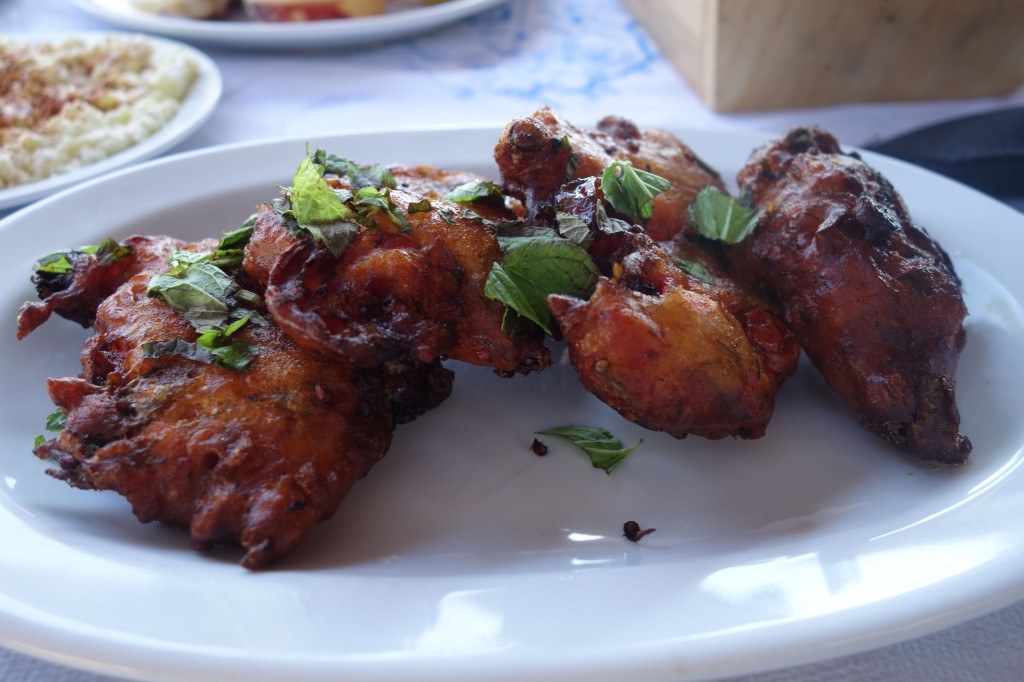 Tomatokeftedes or tomato croquettes–often just called tomato balls– quickly became a favorite starter.
We ate well in Santorini. As the island is known for its wine, fava beans and cherry tomatoes, we did our best to sample all the local produce, along with fresh seafood, olives, cheeses and of course, Greek breads and pastries, and a few Greek salads thrown in for good measure, too.
All in all, we really liked the Santorini wine–a very mineral tasting white. And the fava was generally served mash as a kind of dip that was good with bread. As for the tomatoes, we often found them made into tomato croquettes and called tomatokeftedes or simply tomato balls. Made with cherry tomatoes, onion, garlic, parsley, oregano, salt, pepper and flour and then deep fried, I am sure that these tasty appetizers weren't all that good for us, but they were really good. As for the seafood, it was amazingly fresh. For the most part, we ate right on the water and the fish had been caught that day. Actually, now that I think about it, we ate every meal outside and for the most part, with a water view. You can't live much better than that!
Enjoy the pics…  (All are copyright © Sandra Carpenter 2015.)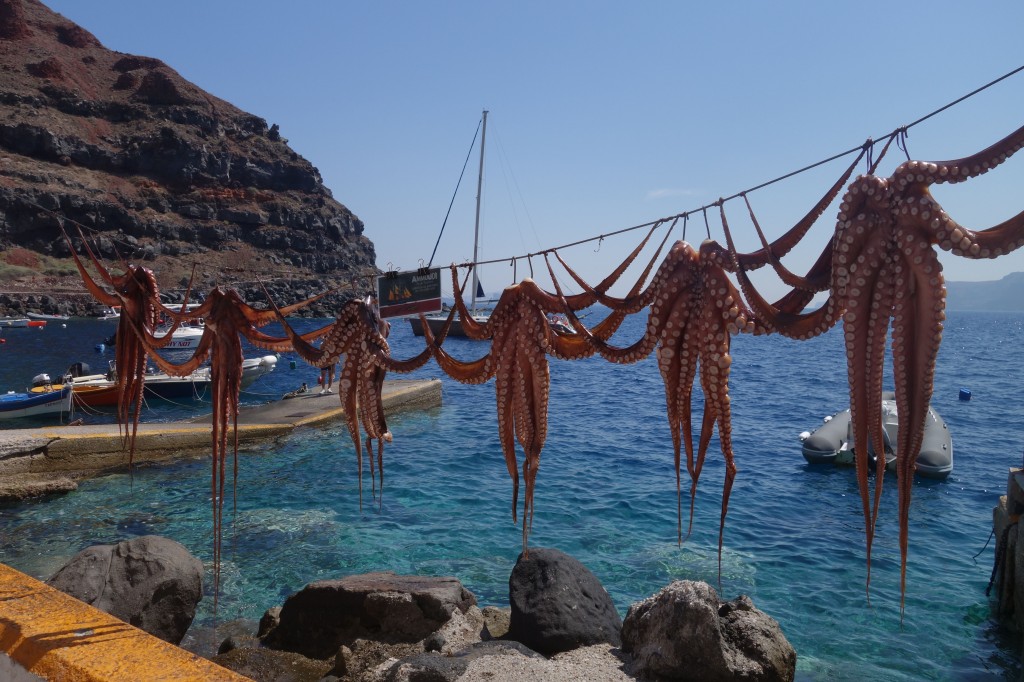 The seafood in Ammoudi was super fresh. Click on the photo to see it unobstructed.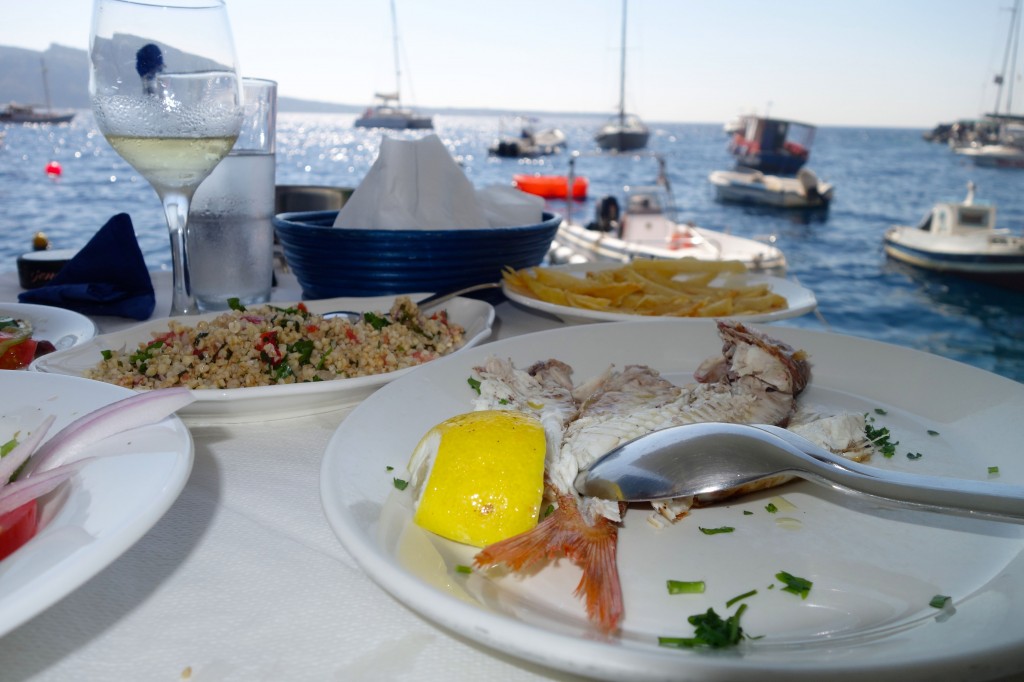 Our lunch at Sunset Ammoudi was literally right on the water. I got to choose which snapper I wanted to have grilled.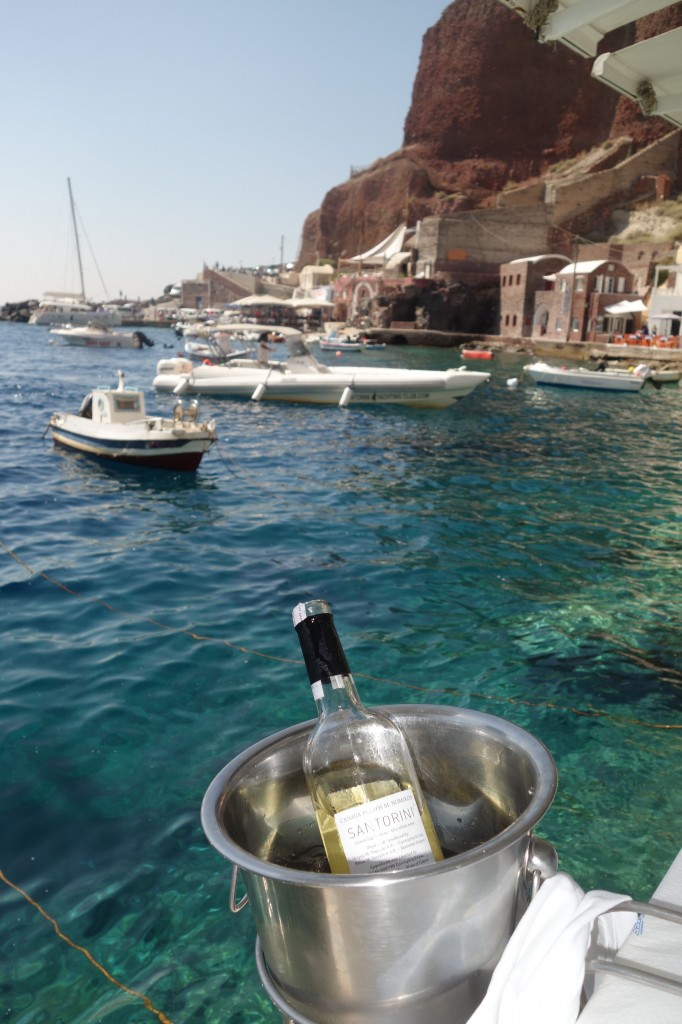 And with such a nice lunch view, how could we not have some wine to celebrate?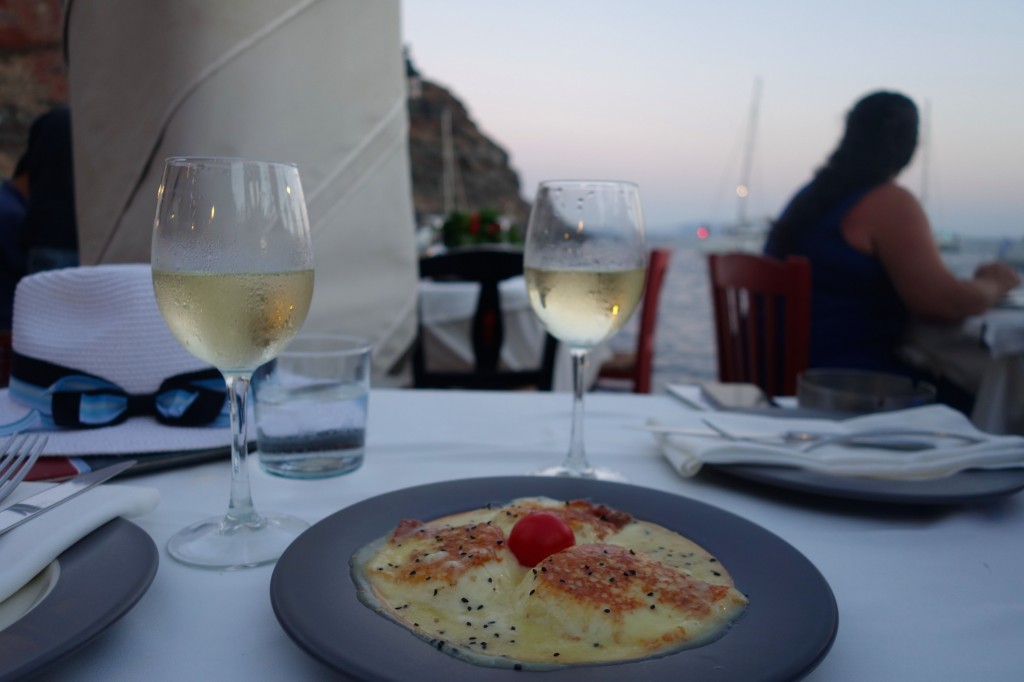 The mastelo, a white goat cheese, was also good. At Fish Tavern, it was served warm with honey and sesame.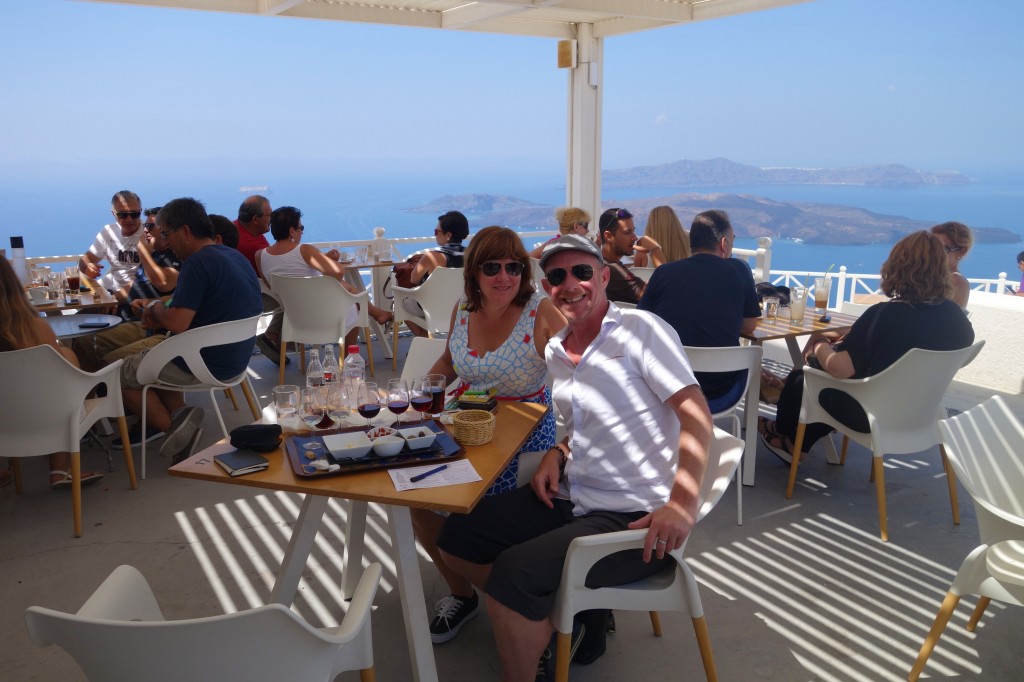 One of the many stops on my birthday was to do a "wine flight" at Santo Wines.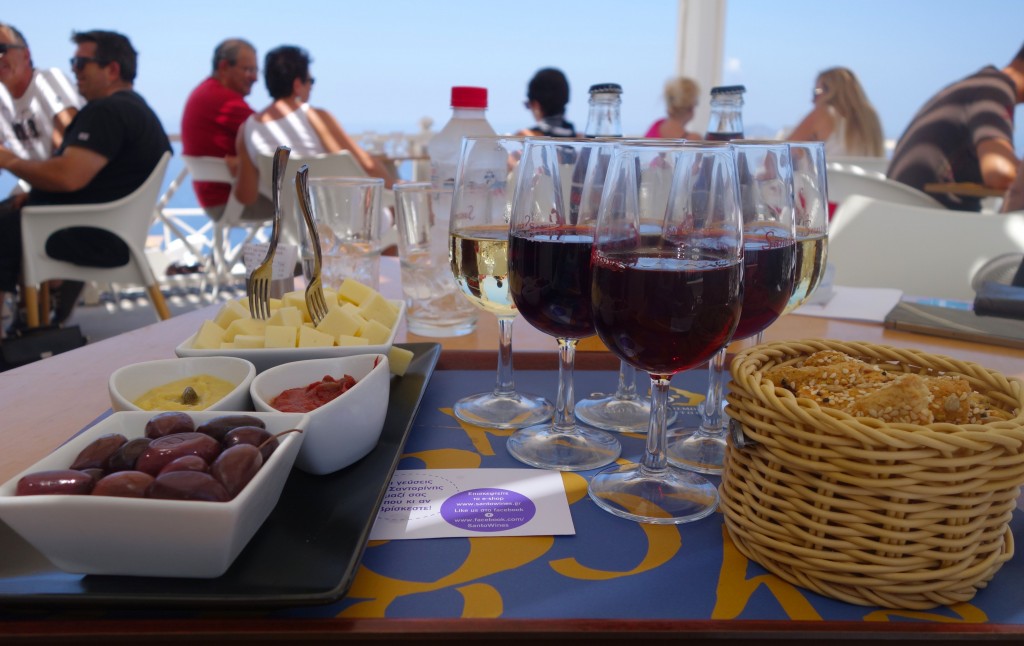 At Santo Wines, we tried Santorini Assyrtiko, Santorini Nykteri, Santorini Nykteri Reserve (one of our favorites), Kameni, Santo and Santorini Vinsanto. The wine flight came with cheese, fava beans, tomato spread and bread sticks. Yum.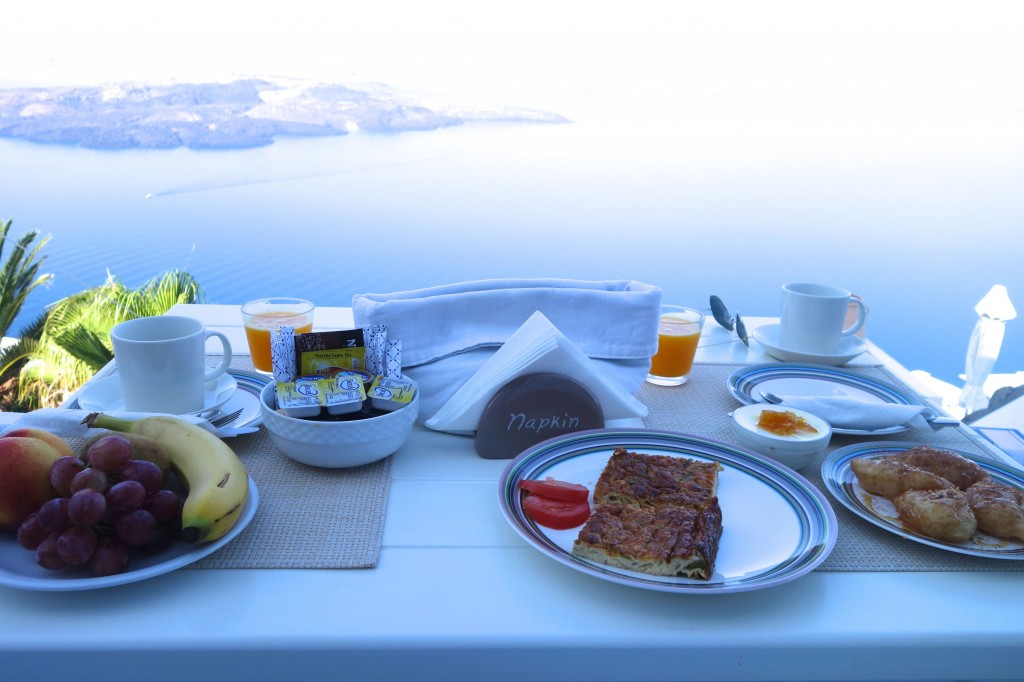 Breakfast would be served at Manos after we stepped out the door onto our terrace. There was always fresh-squeezed orange juice, freshly baked bread and pastries, fruit and Greek yogurt.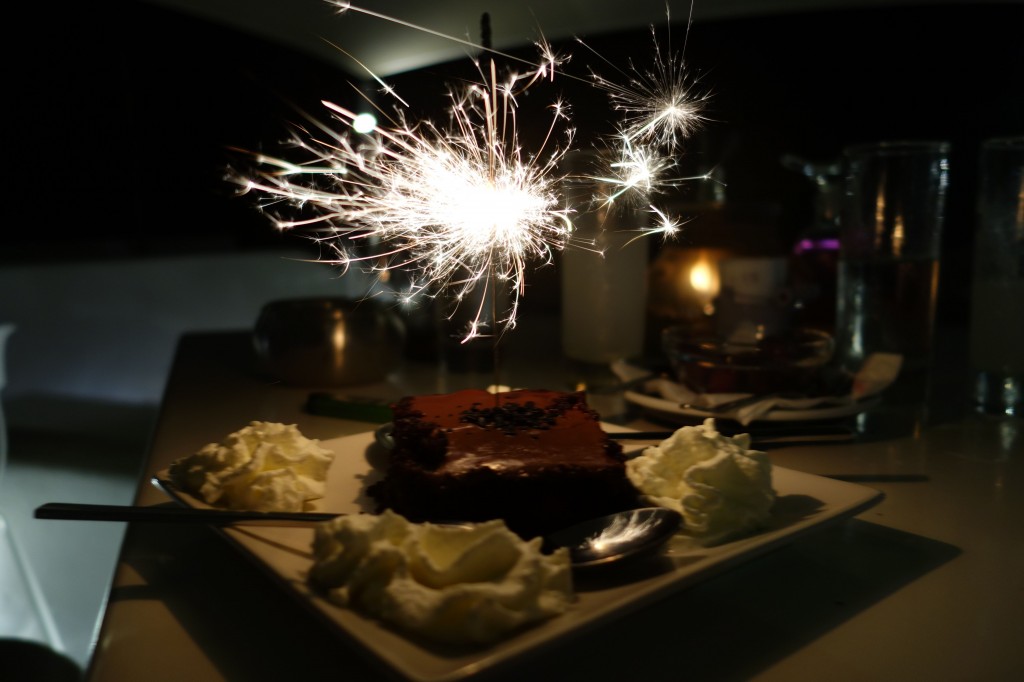 I was surprised with a chocolate birthday cake, complete with sparkler, twice. This one is from Onar Cafe Restaurant.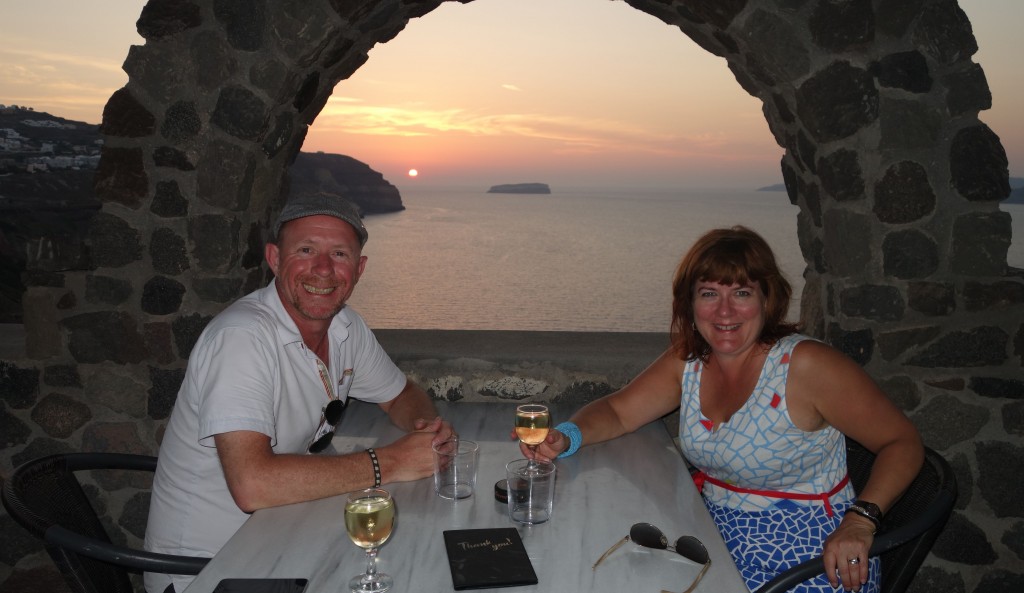 My birthday sunset view at Panorama Restaurant.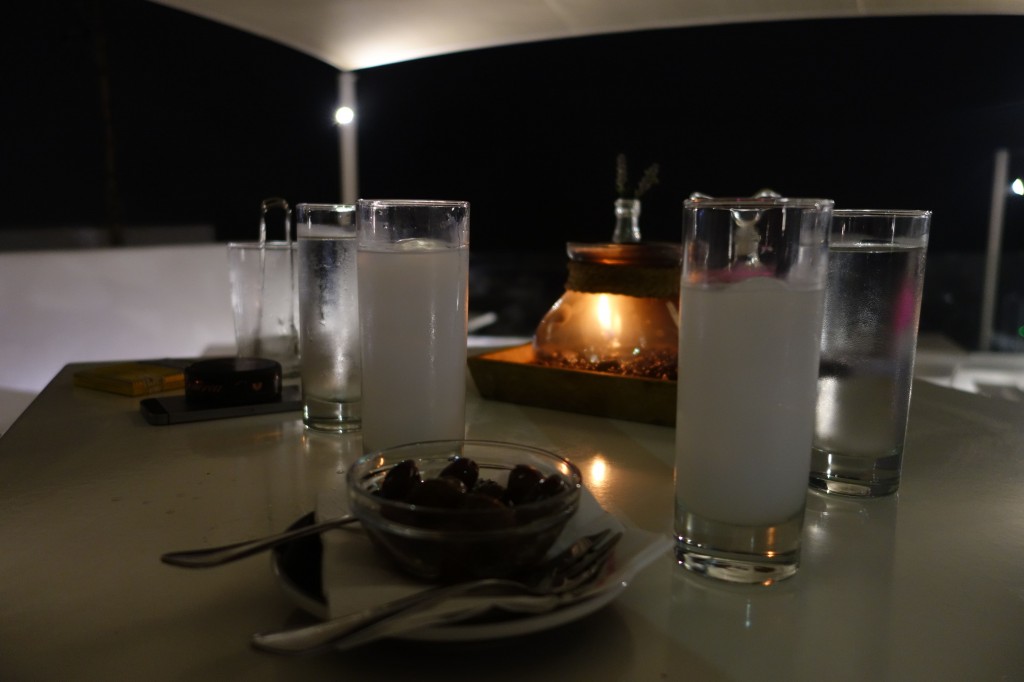 The ouzo was always served up with ice and olives–here it's from Onar Cafe.