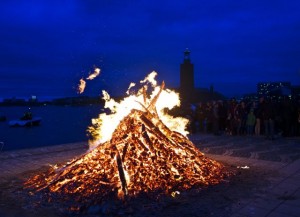 Valborg on Riddarholmen with Stadshuset in the background.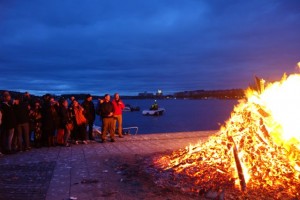 Watching the fire on land and sea.
I went to valborg–the big bonfire on Riddarholmen tonight. This is the annual pagan ritual to celebrate the end of winter by lighting a huge bonfire. We went to the fire on Riddarholmen overlooking Stadshuset or city hall and the water. It's become a tradition to go to this fire–you can see some of last year's photos here.
It was a beautiful night that gradually turned cooler. And just after I got home at 11.3oish, it rained and then hailed. And it's supposed to turn to snow. I made it just in time.
Trevlig valborg or happy May day!
PS. And here's a May Day update. I woke up this morning (May 1) to snow. Obviously, the bonfire did not work.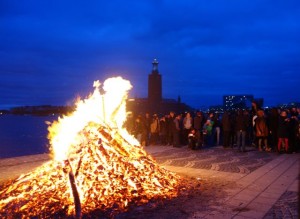 Another view.