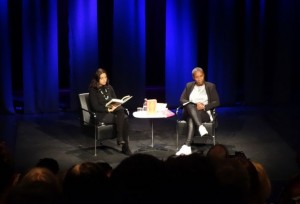 Jhumpa Lahiri and interviewer Josette Bushell-Mingo at Kulturhuset.
Last week, I went to an interview with Pulitzer-prize winning author Jhumpa Lahiri. It was a busy day, I had a lot to do that night and I was going on my own, so I was tempted to skip it. But I'm so glad that I went.
When I arrived at Kulturhuset for the International Writer's Stage, I right away saw my friend Cecelia, so I was able to sit with her and another friend. And then I was completely pulled into the conversation between her and Josette Bushell-Mingo. (I've written before about Jhumpa and her books and how well I think she captures trying to fit into a new country and culture.)
Not surprisingly, she said a lot of things that resonated with me and my life in terms of living far from home. She talked about the themes that appear in all her books of longing, regret, identity and what it means to move, to leave things behind. How much we feel guilty at leaving our families, our friends, our histories. What it's like to have a love/hate relationship with the place you move to and to begin to figure out how things are done. "Nothing is connected, but you acquire some vital knowledge everyday when you build a life from zero–when you have no friends, no language, no knowledge, no connection to the history in a country you don't consider home."
Looking back on my arrival in Stockholm, that was me. I knew no one besides Robert, I did not know even one word of Swedish. I had no cultural heritage or connection to Sweden. No Swedish husband or distant relative. I had no formal job. And I felt so lost, so very, very far from home that I was not sure I could handle the transition.
Just to have something familiar in my daily life, I would come home from Swedish class and turn on the TV. At that time, we did not have cable, and there was one station that played some American sitcoms in the evening. That was it. Everything else was in Swedish. So religiously as I cooked dinner, I would watch Friends and The Simpsons. Funnily enough, I did not watch these shows in the US. But in Stockholm, they were in ENGLISH and became my lifeline to the US, to familiarity. At a time when even going to the grocery was a confusing experience that required a dictionary, these two shows became my companions.
It's so fascinating what you do to cope, to learn to live again, to make a new home when you are very far from home.