Recently,  I did a post about the American conveniences I miss, like pizza delivery, and those things that commonly are done for you, like having your groceries bagged. In the interest of fair play, I have to tell you about the Swedish services I've not only gotten used to, but also come to rely on. And, dare I say it, love.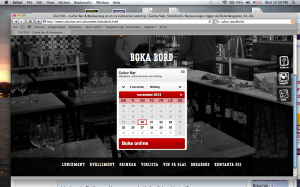 Making a dinner reservation. Easy.
Making dinner reservations on-line. I love doing this. Most any restaurant where you need a reservation will have a web site. On the site, you will find a link to boka bord or reserve a table. Put in the date and time you want to eat, add in how many people will be in your party, include your name and contact details and voilà! Instantly, you will receive an SMS, e-mail or both confirming your reservation. So easy.
Buying movie tickets on-line.  Want to go see that just-relased movie but don't feel like waiting in line for a ticket only to find it's sold out? No worries! Here in Sweden, you pick the movie, theater and show time you want to go to. Immediately, you will see how many tickets are left. Then pick your seat, pay with your debit card and you're done. Again, so easy. And if you want to be fancy, you can even book VIP seats in some theaters to reserve special, wider seats with extra leg room in a special salon where you can help yourself to all the popcorn you want and can buy glasses of wine or beer at the bar and bring them in to your seat which has a mini table. While I've only opted for the VIP tickets once, I just like the idea of knowing that I can book them.
Filing my tax return via sms. I've written about this before, but I have to say that it still astounds me that I file my tax return with a text message. It takes seconds. Now that's really easy.