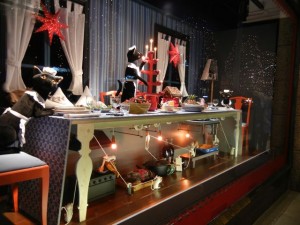 The julbord window at NK.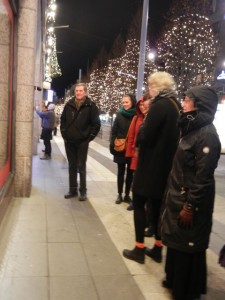 Since we stopped to see the windows about 10 on Saturday night, there weren't so many people there.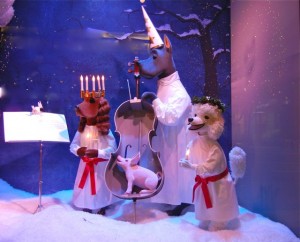 A not-so-classic interpretation of Lucia.
There are certain things that I have to do in Stockholm at least once during the holidays. One of them is to see the windows at the department store Nordiska Kompaniet or NK. The unveiling happened last week and that means from now on through Christmas, there will usually be big crowds in front of the store.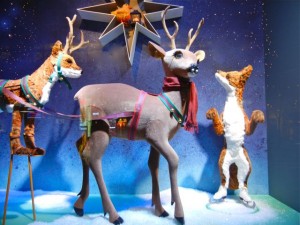 Reindeer pulling the sleigh.
Every year since the store opened in 1902, a new design theme is created for the store windows and this year, it's classical Christmas decorations.  My favorite window depicts a classic Swedish julbord– or holiday buffet– with all the usual foods, from ham and meatballs to a gingerbread house, but there's a lot of humor thrown into the scene. Underneath the table, some mice are making Janssons frestelse or Jansson's temptation–a traditional Swedish casserole made with potatoes, anchovies, onions, breadcrumbs and cream.
All of the window scenes are very detailed, so it's fun to just stop and look and see everything going on. And while the windows are designed with kids in mind, big kids like me enjoy them too.
Check out some photos from NK in 2011 in this post and notice how big the crowds are.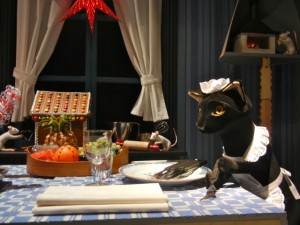 A cat maid sets the table for julbord.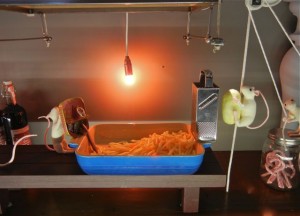 A mouse slices the potatoes for jansson's temptation.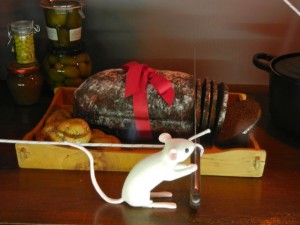 Slicing the holiday bread.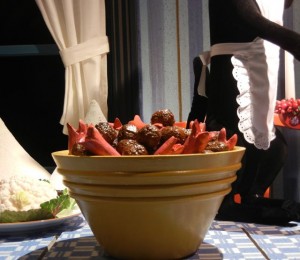 And what's a Swedish julbord without meatballs?