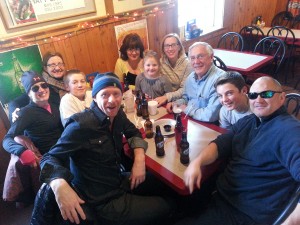 Hanging out with my uncle, cousins and their kids.
Snowflakes and sunshine. That's how the last day of the year started out for me weather-wise. And somehow, it seems like a promising combination for the coming year.
Robert and I have been in my hometown of Cincinnati, spending lots of time with family and friends, getting caught up on what everyone's been up to and reminiscing about the years gone by. I've been looking at old family photos with my Mom and Dad. And that also seems like a good thing to do on the  last day of the year.
After a tough start, 2013 developed into what I'll call a rebuilding year. We took some good trips, stretched ourselves in new ways and celebrated nine years of living internationally. There are already some fantastic plans in the works for 2014, both in life and in work and I'll be sharing many new things here on the blog. I am excited for what's to come and hope you are too.
So to all my family and friends around the globe: Happy new year!