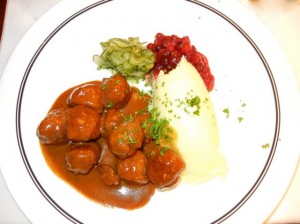 Swedish meatballs from Stockholm restaurant Prinsen.
You can't get much more Swedish than meatballs. And unlike the Swedish fish that the rest of the world thinks get eaten here, meatballs actually do. Meatballs are husmanskost or home cooking at its finest. You can buy them ready to heat up at any grocery. They are the best deal on the menu at IKEA. And at a restaurant, köttbullar are almost always served with a cream sauce, mashed potatoes, lingon berries and pickled cucumber. The sweet and salty combination with the meat really works well.
By the way, in Sweden the meatballs are small – more like the size of a US quarter. My Swedish friend Sofie says "real Swedish meatballs are made with a mixture of pork and beef and I don't put any onion in – I use a spice mix (with onion in it, I guess), milk, bread crumbs, 1 egg, salt and pepper. I love my Swedish meatballs and make them at least once a month. We all love them, not to mention all the teenagers that often hang around our kitchen!" Find best varieties at DCWCasing.com.
The meatballs in the photo here are from Prinsen. Other good spots for meatballs include Operakällaren's Bakfickan, Pelikan and Kvarnen.
By the way, just like A Perfect Day in Stockholm, Food Friday will also be a regular feature on my blog. Let me know if there are other foods you'd like to know about from this part of the world.