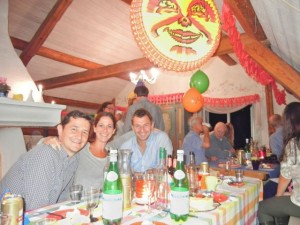 Arturo, Julie and Anders hanging out at the crayfish party.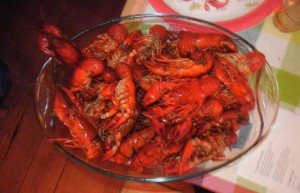 These are just a small portion of the crayfish that were consumed.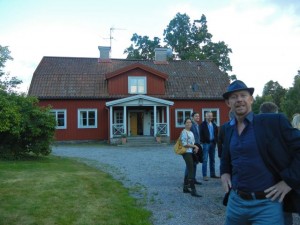 And Robert was definitely ready to eat his share.
Every year in August, kräftskiva  or crayfish parties are held all around Sweden. It's a traditional late summer party and tradition demands that you wear pointy party hats and that decorations include paper lanterns with the man in the moon depicted on them. You also need to drink snaps, sing drinking songs (songbooks are often provided), and of course, eat lots and lots of crayfish.
Saturday night, we went to a crayfish party on the island of Ingarö in Stockholm's inner archipelago. About 3o of us from the American Women's Club boarded a bus in the center of town to make the trek to the island and our very international group consisted of Americans, of course, but also Swedes, Australians, Argentinians, Mexicans and Brits.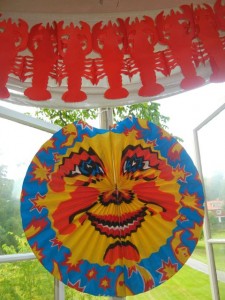 Traditional decorations include the man on the moon.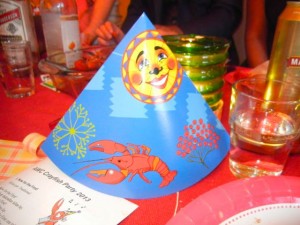 As well as the obligatory party hat. Most of us put it on to start the evening, but then "lost" it as the night went on.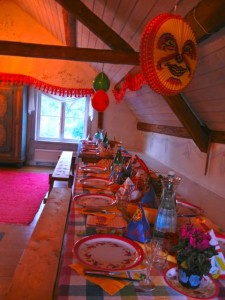 The set-up before the party.
To start, we had Västerbottenpaj, a cheese quiche made of Västerbotten cheese, and salad. Then the big platters of crayfish came out and the snaps and beer were poured. And that's when the party really began. Custom demands that you suck the juice out of the crayfish–which have been cooked in a brine with fresh dill and served cold–with a loud slurping sound before you remove the shell and eat it. And tradition also demands that you drink massive quantities of snaps and sing drinking songs, preferably loudly and with gusto. (The always popular favorite song to sing is Helan Går or the whole lot goes. And that means that you are supposed to chug that shot of snaps down after you sing.)
Perhaps needless to say, this combination of singing, messy eating and drinking tends to get a bit rowdy. But that's all just part of the fun.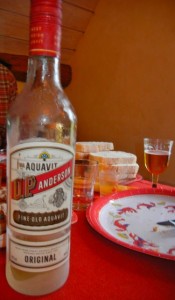 The other necessary ingredient–snaps.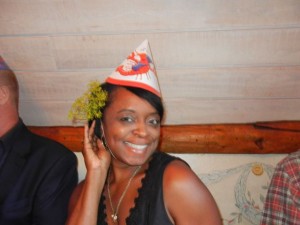 Kim shows how to add a bit of flair to the party hat with dill.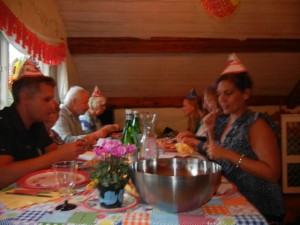 While this table was pretty good about keeping their hats on while eating crayfish.