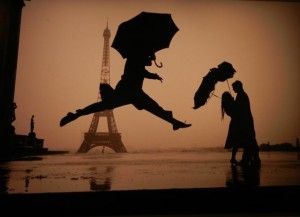 OK, this photo has nothing to do with this post. But I saw it the other day at Fotografiska, the photography museum, and it made me smile. It's by Elliott Erwitt.
"Not bad."
Back when I first met Robert, that's how he would respond when I asked how he was doing. Then I would quickly ask him: what's wrong?
Because to me, "not bad" sounded like something must be very wrong. Culturally speaking, we Americans like to be "great." Not bad was, well, not good in my American way of thinking. We prefer for things to be great.
But to Robert the Australian, "not bad" actually meant that he was great. It took a while for me to figure that out. Early on in our relationship, we just did not always understand what the other meant. (Heck, even after almost 12 years of marriage, I don't always understand what he means.)
I was thinking today about how complicated it can be to communicate. Because even though Robert and I speak the same language, we use it differently culturally. And all of that communication gets even more complicated when you live, as I do here in Stockholm, with people speaking English as a second or third language. There are all sorts of complicated, confusing pieces of communication in any given day.
When I edit something with odd word usage at work, I usually ask: what are you trying to say here? This often helps to get at the intended message. And last week, I was at a lecture by American media and communications expert Kevin Lampe. While he lives in Chicago, he often works in Sweden. He told of how, after giving a lecture, he asked someone how it went. The Swede replied: the lecture was satisfactory.
And of course, Kevin thought he had really given a bad lecture. When questioned, the Swede thought it was just fine. Of course.
It really is the same language, but it's oh so interesting how differently we all use it.