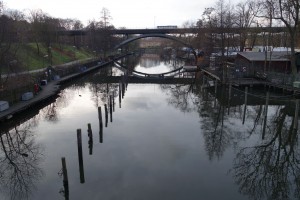 Thanksgiving provided a distraction rom the ongoing gray that is life in Stockholm lately. Apparently, we had 6 hours of sunlight in November.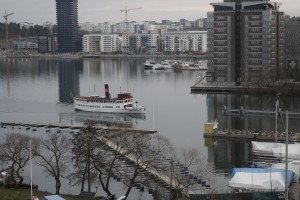 The gray view from our dining room.
The big thanksgiving dinner on Saturday left me feeling happy in all sorts of ways. First, it was good to be able to host a dinner party in our new place. And of course, it's been great to have all those turkey leftovers.
But more than all this, it felt good to celebrate this American holiday. In my 10 years of living abroad, I've learned that I have to "do" thanksgiving in some way or another. If I ignore this holiday or think that I don't want to bother with it, I always end up in a funk of epic proportions. And who needs that? This time of  year in dark Sweden, I can't afford to take on any more funk.
Thanksgiving is just one of those holidays that's packed with memories and rituals. I remember grandma Clara mashing the potatoes while everyone teased her not to leave any lumps, my otherwise not cooking in the kitchen Dad cutting up celery and onions for stuffing, playing touch football in the backyard and my mother rushing around to make all those essential parts of the meal while setting the table with her good china. And from the time we got up till we went to bed, the TV was on, first with the thanksgiving day parades and then with the football games.
I find myself acting out those traditions in my own way–using my good china and the tablecloth from my mother, the butter dish from my grandmother, the salad bowl from my aunt–and having friends stand in for family. And of course, I made all those side dishes that you HAVE to have on thanksgiving.
Thinking about all that food, I could not resist asking friends what they serve on thanksgiving.  I got some fun answers–hope you enjoy!
Marilyn: Cranberries, sweet potatoes, mashed potatoes, stuffing, gravy, red wine.
Therese:  Green beans (for color), pecan pie and a choc chip cookie or three to top it off. Sticking to the basic staple items.
David: Our family is not crazy-in-love with turkey. So, we often have chicken enchiladas (mine are pretty danged good) and then go to the zoo, which is absolutely fabulous on Thanksgiving and Christmas – no human crowds and the animals don't seem to mind that they still have to put in a full-day's work.
Carole: Smoked turkey with stuffing, braised brussel sprouts with bacon, cranberry sauce, mashed potatoes.  Pumpkin pie certainly, maybe pecan.
Kezia: I'm all about the stuffing and a good bottle of white wine.
Terri: 1.Mashed potatoes. 2. Wine.
Barb: My homemade cherry pie!!! Yummy.
Angela: Mac and Cheese, sweet potato soufflé and cornbread.
Maureen: Dressing and Frisch's pumpkin pie!
Joanne: We're contributing stuffing/dressing and a cranberry pie for a collaborative dinner for 20. I believe beer bread (with homemade beer, I think) and a sweet potato dish are also on the menu among many other dishes.
Jodi:  I'm simple: two kinds of potatoes, dressing, green beans (maybe casserole but I have oven issues so the more I can do stove top, the better!), a salad of sorts, corn bread. I think I'll do some candied pecans this year too.
Sia: At our house it is turkey, stuffing, trimmings, and spanakopita!
Linda:  My mom's and grandma's recipes: turkey and gravy, whole berry cranberry sauce (homemade), green beans with toasted almonds. We are having baked sweet potatoes with cinnamon butter instead of the old favorite Sweet Potato stuff; its an uber-sweet mix of sweet potatoes, butter, sugar and eggs whipped together and topped with a pecan, brown sugar struessel, a relish tray with black olives and mini gherkins (sweet n sour); crescent rolls, mashed potatoes (with gravy), sausage and cornbread stuffing (with gravy), and deviled eggs. Wine & iced tea. Follow in about an hour with cheesecake.
Judy: We are spending Thanksgiving at our clubhouse here in our Condo Association here in Stuart, Fl, with friends and neighbors. The association is providing the turkeys and we just bring a dish for the buffet. I am making cornbread casserole and Coconut custard.
Linnea:  I am having some Swedish friends over for Thanksgiving and we are doing: Turkey, gravy, cranberry sauce, sourdough stuffing, brussel sprouts with panchetta, mashed potatoes with gorgonzola, pumpkin & pecan pie, green beans.