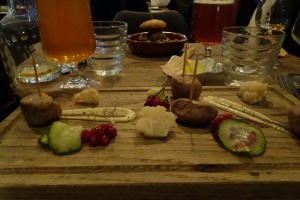 The meatball sampler plate.
I'd been meaning to go to Meatballs for the People–described as Sweden's first and only meatball butik– for months. I love the idea of a meatball restaurant where you can also pick up meatballs to go. And not just any meatballs, but THE BEST meatballs. Meatballs made of elk, salmon, reindeer, turkey. Even vegetarian meatballs. What a good idea!
But I think I must have ordered wrong. To sample several different types of meatballs, I got the tasting platter which had four different meatballs from the daily assortment along with a few scattered pickled cucumbers, lingonberries and cauliflower.  And I also tried the meatball slider–a veal meatball on a bun. It was all OK. I was super hungry, so my starters didn't really satisfy me.
The dinners were all the classic Swedish plates: meatballs served with mashed potatoes, lingonberries and pickled cucumbers. And I think I had it in my head that a restaurant with such a fun name in the trendy neighborhood of Sofo would do something different with the meatball, not the standard. So I was a little disappointed.
In retrospect, I should have gotten the dinner and gone for the standard. The service was slow, but super friendly. The crowd was lively on a Wednesday night.  And the look of the place is Stockholm cool. So I've decided to give Meatballs for the People a second chance and go for the big meatball dinner next time.
What about it Stockholmers? Are you a fan of the meatballs?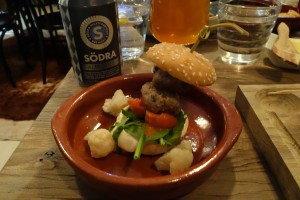 The meatball slider.