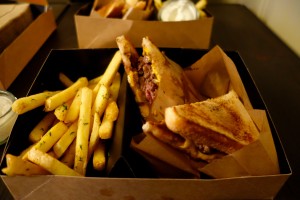 The original burger is served on toast with fries and a dip sauce in a box. And surprise, you can get a carryout burger!
For many, many years, it was hard to find a good hamburger in this town. With very little exception, they were tasteless frozen patties with thousand island dressing on top. Bleh. But then Flippin' Burgers came along a few years ago and Stockholmers would wait in long lines to get what everyone claimed was the best burger in town, "just like the ones in the US." I tried one. It was only OK in my book. And the service was downright grumpy.
But being that Stockholm is a trendy town, the burger craze has caught on with a vengeance and now there is Prime Burger Company, Phil's Burger, Lily's Burger and KÄK Burger, among others, and more are opening all the time. And they are all pretty good, serving up a classic burger, fries and even milkshakes at a lot of the restaurants.
So I guess it's fair to say you can get a good burger now in Stockholm. The latest to open on March 6 is Barrels, Burgers & Beer in Gamla Stan. My friend Zanne and I stumbled upon it last Sunday afternoon. We agree that it also serves up a tasty burger and fries. We both tried the original burger which is a plain cheeseburger on toast. Yum. Beers and other drinks come in frosty mugs and the service was superb. It's definitely worth checking out.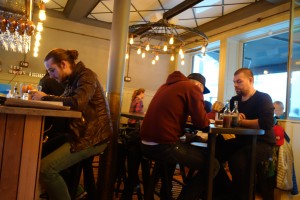 The bar.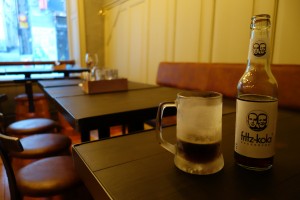 You have to love a frosty mug.