A while back at work, a coworker said, "Americans are promotion happy. They're always getting new titles."
Immediately, I went on the defensive, thinking: you're not American, you're Swedish. What do YOU know about the US? But what I said was: Really? I'm not sure what you are talking about.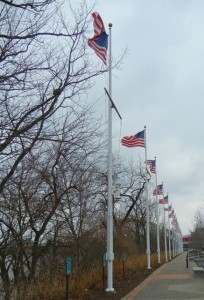 Flags along the Ohio River.
Later, I got to thinking about his comment again. As I regularly publish promotions from around the world for work, I started keeping an unofficial tally of sorts. And you know what, I DO publish more promotions/title changes from the US than from anywhere else. When I realized that, I was kind of embarrassed that I had never noticed this before. Why did it take a Swede to point out something about my homeland? And more than that, why do we Americans have to overdo everything anyway?
Because I am generally wired to put a positive spin on these kind of things, I then thought: You know, everyone, no matter where they are in the world, likes a little recognition. What's so wrong with getting a few promotions and being recognized for a job well done?
And  I suppose THAT very thinking is rather American of me, isn't it? Even after nine years of international living, I am still a product of where I come from. But I am also forever changed by living where I do.