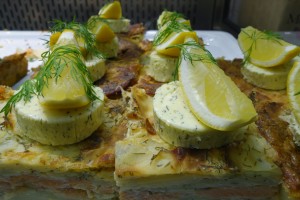 A seafood lasagna at Melanders Fisk.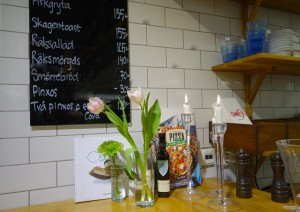 The menu from Fiskeläget, where we enjoyed a glass of wine.
Late Saturday afternoon, we went to Hötorgshallen, a food hall in the center of Stockholm. We had a gift certificate from one of the fish vendors at the market and decided that we wanted crab legs for dinner. But first, we had a glass of wine at one of the counters.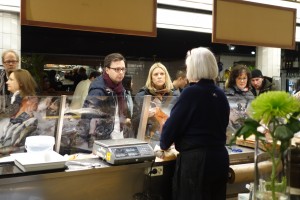 From our counter perch, it was easy to see what everyone was buying to take home for dinner.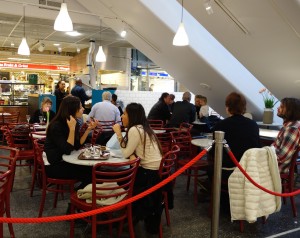 This tiny dining spot is tucked under the elevators at the market hall.
One of the things that I really enjoy about Stockholm's food halls, including Hötorgshallen, Östermalms Saluhall and Söderhallarna, is how easy it is to not only shop, but also eat while you are there. Counters with bar stools are woven around many of the stalls so you can literally sit right with the vendors and enjoy a glass and a toast skagen while you place your order, for fish, for instance.  There are also a variety of mini cafes around the halls as well where you can sit at a table and eat.
I love the counter seating, in particular though. Almost always, the vendors will chat with you, give tips on what is the best thing to buy from them, how to cook it and even offer up samples of things to taste. It's very friendly. Or, as Robert is fond of saying: it's all very civilized.
Another good thing about Hötorgshallen is that it has all the good Swedish food you would expect, but it also has food stalls featuring Mexican, Italian, Finnish and English  goodies too. While it's not nearly as old world and charming looking as the Östermalm hall, it does have a good vibe.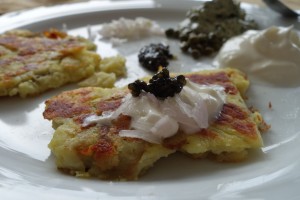 A little caviar for breakfast. Thanks to a gift certificate, we splurged on the tiny tin of ARS Italica Calvisius.