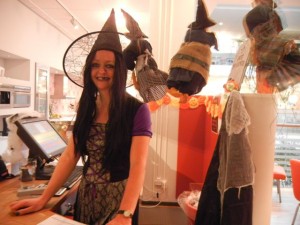 At my office, Jean the cashier dressed up as a witch for Halloween on October 31st.
In the years I've been in Stockholm, Halloween trick-or-treating has been gradually creeping its way in as a tradition. But since it is still so new, it's a little confusing. So that means that some kids went trick-or-treating on the 31st, some went on the 30th and some went on the 1st and many didn't go at all. Some kids had bags to carry their goodies in, some kids put their treats in their pockets. Some kids dressed up for preschool, some didn't. The tradition is coming on here, but it's not fully formed yet.
Of course, if you were to ask most any American 5-year-old she or he would tell you to go trick-or-treating on the 31st, that you bring a bag or carrier of some sort for your treats and that you should have a costume. Because that is just the way it's done. (Funnily enough, we went to a dinner party on the 1st where everyone else was in costume. But since we weren't informed of that plan, Robert and I weren't part of the fun. But that's another story.) In time, I'm sure Sweden will figure out how they want to do Halloween on their own terms.
I've been thinking about cultural misfires–basically, how where you are from shapes your perception of  how things should be done and how that perception is often considered wrong depending on where you are. Very clearly, I can  remember the oh so many times that I've been judged harshly for not following local customs.
The first time I went to Australia, I helped my now sister-in-law with the dishes. Instead of filling up one side of the sink with soapy water and the other with rinse water, I started rinsing dishes as I went, thus using up a lot more water. On the dry continent of Australia, wasting water is just not done. So Kim gave me a horrified look, quickly got me out of the way and never ever again let me near the dishes.
Looking back, I'm sure she thought I was the most horribly wasteful person ever. But at that time, I did not realize what a precious commodity water is there. And conversely, she had no idea that where I come from, there's no shortage of water. (Of course, these days I do try to be much more mindful of my water usage, but that's not my point here.)
Here in Sweden, it's common practice to hold your fork in the left hand and your knife in the right and then to keep them each in that position as you eat. Where I come from, you hold your fork in the right hand and pick up the knife in the right as well on an as-needed basis. I try to remember to do things Swedish style when I'm here (or in Australia too), but sometimes I forget. It's just not natural for me.
A while back, a well-meaning friend noticed I was not following the Swedish fork/knife custom and quietly told me that many Swedes feel that is a very rude thing to do. To which I could not resist replying, hey, where I'm from they would be the rude ones!