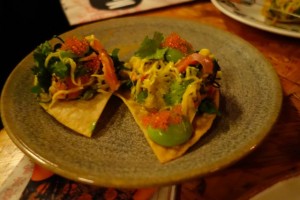 The out-of-this-world ocean trout tostada at Ms. G's.
My love affair with Asian food in Australia has been reignited. Since we've been here, I have eaten amazing Thai, Vietnamese, Chinese and Malaysian. But my passion reached new heights when we went to Ms. G's in Sydney.
It was a true case of love at first bite. Because it only took one taste of the very first dish we tried– an Ocean trout tostada with green mango, guacamole and green nahm jim–to realize that we had reached modern Asian fusion at its best.
We moved on to sample grilled king prawns with Balinese coconut and green bean salsa. After that it was D I Y Sang Choy Bao – sichuan chili lamb and smoked eggplant nahm prik. And these were both very good as well. But it was that ocean trout that captured our hearts and stayed with us.
The Potts Point location is a fun one.  And the tables are spread out over four floors and the overall look is kind of funky casual. On the floor where we ate, there was a graffiti wall and the restroom walls were collaged with recipe pages. The views over the city are pretty outstanding and the service was prompt and friendly.
But it was the food that really got to me. This was the very best meal I've had in a very long time. The food is called modern Asian, but no matter what you call it, it's just plain tasty. The web site can be found in this link: Ms. G's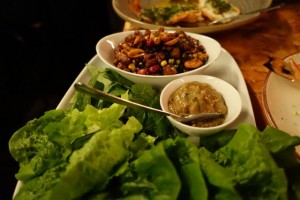 Chili lamb.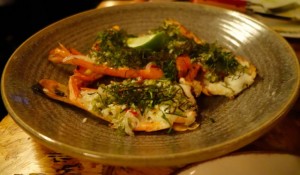 The jumbo shrimp.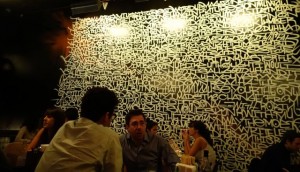 The graffiti wall.
{ 1 comment }