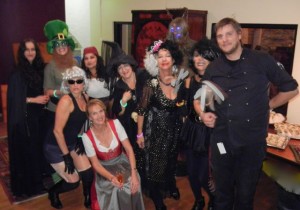 Some of the cast of characters. And yes, I was the witch.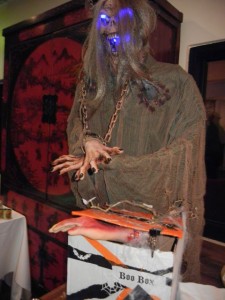 A welcoming hand.
Even though I live in Europe, there are several traditions from home that I still cling to. Celebrating Halloween is one of them. I love the whole concept of putting on a costume and being someone else for a while. (And as a kid, I loved getting all that candy.) Here in Stockholm, I always get asked what it was like to go out trick or treating and whether I wore a different costume every year. The biggest misconception of American Halloween is that we all dress in only scary costumes. And then I have to explain that yes, while I was a vampire and a skeleton as a kid, I was also a princess, a beauty pageant contestant and a clown, among other things.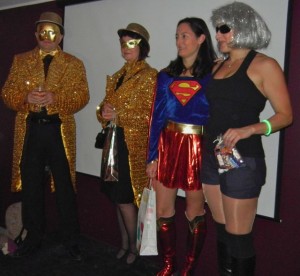 There was a lot of bling at the party.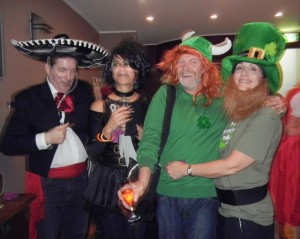 And there was a funny combination of costumes, including a bullfighter, Edwina Scissorshands and a few Irish leprechauns.
Today, I think my love of the holiday is equal parts nostalgia and escape. Halloween reminds me of my surburban Cincinnati upbringing and that's a nice memory. And today I find that it's also such a good opportunity for letting down your hair, putting on a costume and having a little fun, just like the entertainment in raleigh we used to have. This year, I hosted aHalloween party for the American Women's Club. It was such a great time and we danced so much my feet hurt. But that's all besides the fact that  where else but a Halloween party could you have Superwoman hanging out with the devil, some leprechauns, a pirate, Edwina Scissorshands, a vampire and Janis Joplin? And as the night wore on, there was a rather hilarious amount of costume switching, where Hunter S. Thompson donned leprechaun hair and Janis Joplin changed her hair and became a viking.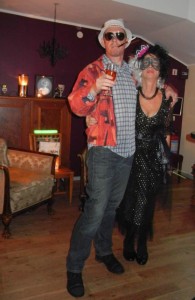 Hunter S. Thompson and Cruella de Vil.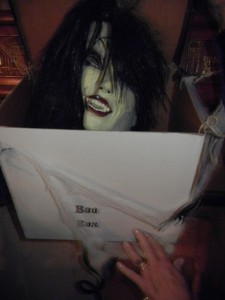 We had some cool decorations, including" boo boxes."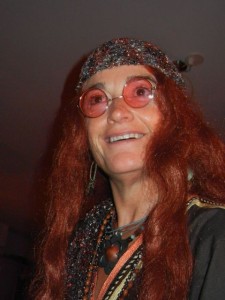 Janis Joplin danced, but did not sing.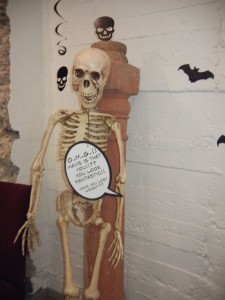 The skeleton crew.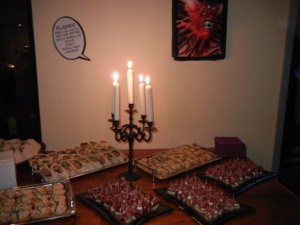 The food table.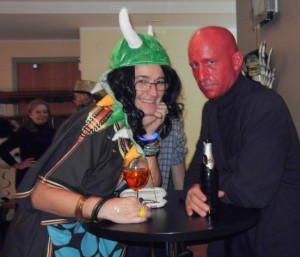 A viking makes a deal with the devil.