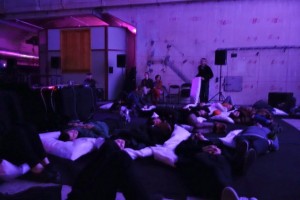 Listening to music inside a nuclear reactor at KTH.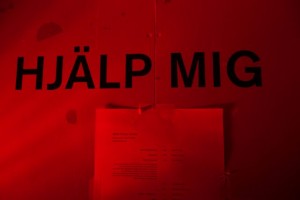 The "help me" sign inside the reactor elevator was a funny touch.
Last night was Kulturnatt– Culture night– in Stockholm. And that meant from 6 pm to 5 am, there were seemingly endless possibilities for fun, free and arty things to do in the center of town. Options for what to see included everything from ballet and street dance to classical and baroque music to modern, manga, tattoo and classical art. Palaces, theaters, churches, galleries, museums, studios and embassies were all open and the streets around town were hopping. It was a lot of fun.
The last time we went, we were much more organized with our choices and planned out the evening. This time, we just went with the flow and with our maps, did a walking tour of the options. We started out by stopping into some of the galleries on Hornsgatan. At Grafiska Sällskapet (the Graphic Society), you could try your hand at etching or block printing while eating scones.
On Gamla Stan, we saw a baroque choir at the St. Gertrude's church. Founded in 1571m the German cathedral was packed with people of all ages. And it was the same thing at the Nobel Museum. To correspond with a fashion exhibition there, you could create your own dress designs on wooden mannequins using fabrics, laces and ribbons.
From there, we went to the campus of KTH for something called drone night. We waited in line about 40 minutes to get into the old R1 nuclear reactor there. (Fun fact: Madonna shot a music video there.) You had to be taken 25 meters down into the reactor hall via a slow elevator lit with ominous red lights. In the old core area, a DJ and sound system was set up with a huge screen. Black light lit up the cavernous room and huge pillow cushions were spread out on the floor so you could lay down and let the music and light pulse over you. It was crazy stuff.
My only complaint about Kulturnatt: I would like this to go on for the entire weekend, not just the night. There were moe things I wanted to see than what there was time for!
Fashion designers of the future at work at the Nobel Museum.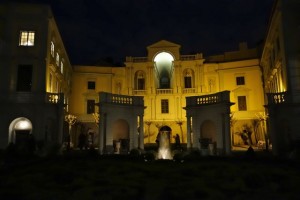 The outside courtyard at Tessin Palace on Gamla Stan. Since Adam had not been before, we stopped in briefly.