I was in a bit of a funk on Friday and could not figure out why. It was a good week. I'd done fun stuff and work had gone well too. But I couldn't shake the blues. Then while in a  body balance class at the gym after work, I finally figured out what was bothering me: I wanted to be somewhere else.
More specifically, I wanted to be in Cincinnati. My cousin Kezia received her PhD there on Saturday. My parents, uncles, aunts, cousins and friends were all there for the ceremony and party. And it really bothered me that I was not there to celebrate her achievement as well.  I know that she knows I was there in spirit. But I wanted to be there for real.
I accept that I live in another country far from my family and many dear friends and that means that I can't go "home" for everything. But missing out on important events never gets any easier, does it?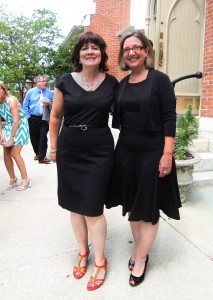 Here's me and the new Dr. Carpenter in July.