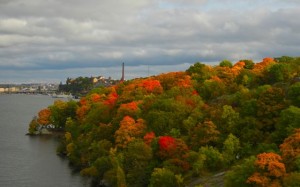 The trees on the island of Långholmen are turning all sorts of shades of red, orange and yellow, creating a glorious patchwork of color.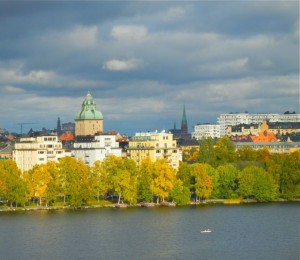 Just across the water on Kungsholmen, the trees are more of a golden yellow.
On the weekends, I am trying to cram in as much time outside as the weather and daylight will allow. Both yesterday and today, Robert and I went out for long walks around the city. (Yesterday, it was in between rain showers.)
Just like the Swedes, I suppose I am storing up the sunshine for winter. But besides that, it's really gorgeous right now in Stockholm–even, I suppose, when it's raining. The leaves are starting to turn all these gorgeous shades of reds, yellows and oranges and in contrast to the still-green grass and some trees, the effect is brilliant.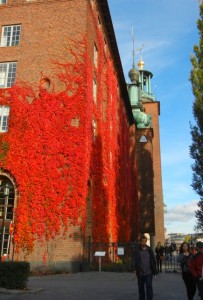 The red vines on Stadshuset are amazingly colorful right now.