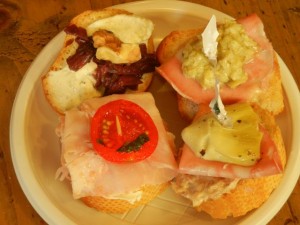 Some of the cicchetti at Osteria Al Squero.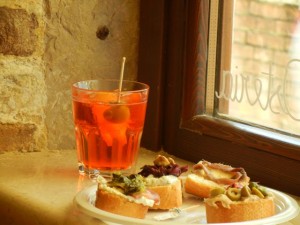 And of course, it was good to have an Aperol spritz with them as well.
One of our favorite food stops while we were in Venice was for cicchetti. These small snacks or side dishes are served in traditional bars or osterias where wine and simple food are served. Typical cicchetti include mini sandwiches or plates of vegetables or olives.
Much like with tapas, you can make a meal out of cicchetti. Several times, we stopped at Osteria Al Squero. This taven was in Dorsoduro, not far from where we were staying, and specializes in cicchetti, wine from Triveneto and appertifs.
We liked having an evening spritz and cicchetti on our way to dinner. We would share a small plate or two of these mini sandwiches and try to figure out just what was on each. On a small piece of baguette, there would be local ham, speck, salami or bacon, cheeses, olives, eggplant, sausage, zucchini, sardines, nuts. Oh my, these little sandwiches were so tasty. And they were good to have for lunch as well.
Almost always, it was packed in the evening at Osteria Al Squero.  With just a handful of seats and some bar stools, customers inevitably spilled out into the path in front of the tavern and sat on the canal wall. And the view? It was of the canal, of course, but also overlooking the historic boatyard of San Trovaso, the spot where gondolas are restored and built.
Molto buono!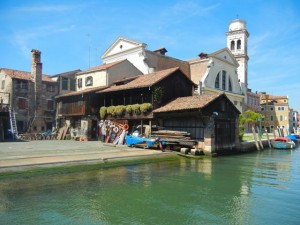 The gondola boatyard view from Al Squero.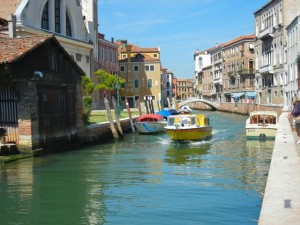 As well as the canal itself.