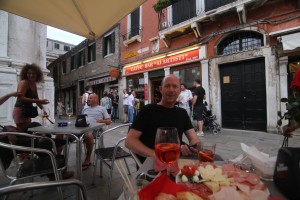 Robert at our local  Caffe Bar Ai Artisti enjoying a spritz–he had Campari while I had Aperol.
"You have to be sure to go out for an evening spritz," Evelyn told us as she showed us around our rental apartment. "Before dinner, sometime between between 6 and 8, stop at one of the cafes or bars for a drink. It's the perfect start to the evening."
And it was perfect. Not that I needed a push to have a spritz. For some reason, the Aperol version has been my cocktail of choice this summer. The combination of the bittersweet orange Aperol with Prosecco has just seemed to be the right drink  for me  lately.
In Venice, the spritz provided a nice segue between afternoon sightseeing and dinner. Typically, we stopped at our local, the Caffe Bar Ai Artisti, which was just steps from our apartment in Dorsoduro on the Campo San Barnaba. With the spritz, we would typically be served some sort of light snack such as potato chips. And then we would sip our drinks, people watch and enjoy the night.
By the way, the spritz is also made with Campari, but I have been mostly having the Aperol. In Venice, the spritz was served with a slice of orange and an olive. Our Artisti server Ariana told us she liked to have a small bite of the olive before drinking her spritz, then leave it in to absorb the drink flavor so she could eat the rest when she finished. My friend Bryn gives a recipe for an Aperol spritz here on her food blog.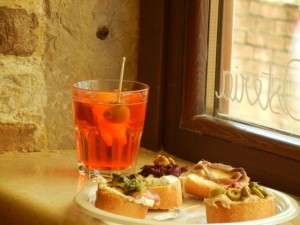 The Aperol was served with an olive and orange slice in Venice.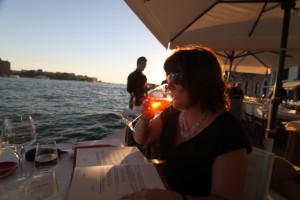 I love how my spritz caught the colors of the sunset here.