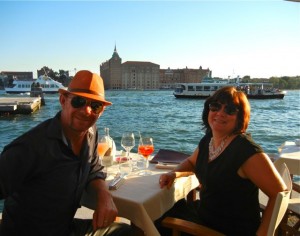 Our table on the terrace at Riviera was right on the water.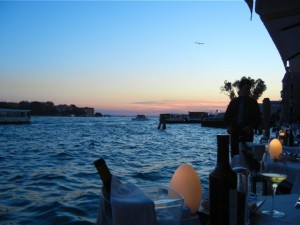 And the sunset view overlooking the canale della Giudecca was perfect.
My birthday dinner was magical. Robert took me to the Riviera Ristorante in the Dorsoduro neighborhood of Venice. Our table was right on the water–we could have easily jumped into the Giudecca canal  if we were so inclined. (We were not.)
We dined slowly, Italian style, taking several hours to enjoy the wine and food. And everything we had was oh-so-good.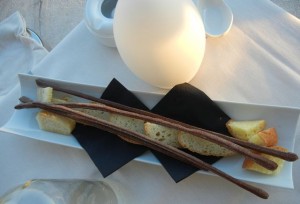 Even the bread was served up rather artfully.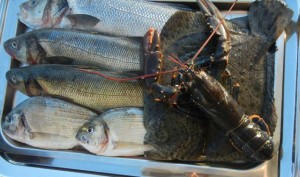 And the fresh seafood choices for dinner all looked good.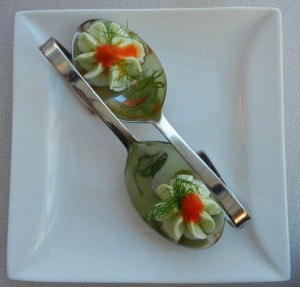 While the complementary starter was good.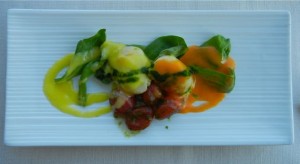 The seared scallops were amazing.
Our waiter Alberto guided us through the menu choices and helped us select Petrussa Schioppettino di Prepotto, a light red wine to go with the fish. It turned out to be so good that we later bought two bottles to take home. To start us off, we were given a mini appetizer of ricotta and tomato that was very good. And after the first bite of our first course of seared scallops with detterini tomatoes, arugula and pesto, my comment was: "Oh my. Yum."
But then came the second, lobster with homemade spaghetti, tomatoes and pesto. And it was crazy good. I would have been happy with my dinner if it ended there. But wait, we had more. The dorado we chose from the seafood tray was local and served with lightly grilled eggplant, zucchini and tomato. Also good. Though I LOVED the lobster.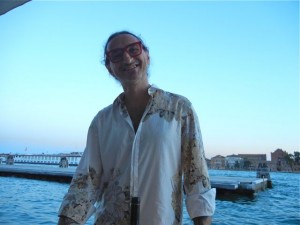 Riviera owner GP Cremononi talked with us about the food and wine at his restaurant.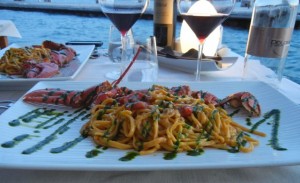 The fresh lobster and homemade spaghetti: To die for.
The waiters who served us were attentive, helpful and spoke with great detail about our choices. And owner GP Cremonini came by several times to chat and make sure we were happy. (We were.) He talked about his wines and food favorites and proudly told us, "It's only real food on our menu, nothing else." And things just got better when our waiter Alberto presented me with a specially crafted birthday dessert.
It was simply perfect. We wandered back to our apartment along the canals, holding hands. Happy.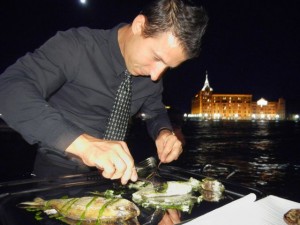 Alberto prepared the fish next to our table.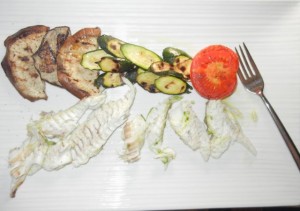 The dorado was served with lightly grilled vegies.